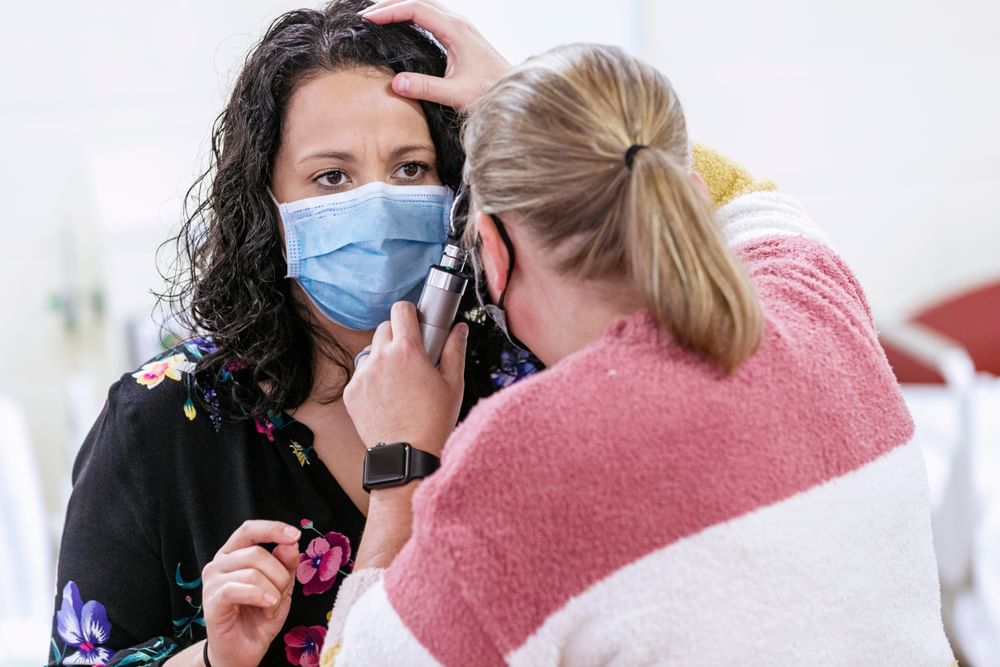 Do you want to develop new nursing skills, greater leadership and autonomy? If so, earning a Master of Science in Nursing (MSN) online will help you prepare for the next step in your nursing career.
With over 500 U.S. nursing schools offering online MSN programs, it can be overwhelming when you're doing your research. There are several factors to consider including the school's reputation, learning format of the program, program length, cost and more. 
Investing in an online nursing degree program is a major decision, and it can be helpful to have a list of criteria you can use to help properly compare programs to ensure you're making the best possible decision. Continue reading to explore 10 questions that will help you choose the best online MSN program for you.
What specializations are offered?
Choosing your specialty is vital for finding the best online MSN program for you. To decide, consider your strengths, career aspirations and preferred area of nursing.
Are you passionate about direct patient care? If you want to advance your clinical and leadership competence, explore online MSN programs with advanced practice nurse specializations.
Demand is soaring for nurse practitioners. Between 2020 and 2030, the U.S. Bureau of Labor Statistics expects their employment to grow by 52%. This pace is almost six times faster than the average growth rate for all jobs.
If you want to become a nurse practitioner, you have plenty of options. Nurse practitioner specializations include, but are not limited to:
Adult-Gerontology Acute Care Nurse Practitioner
Adult-Gerontology Primary Care Nurse Practitioner
Neonatal Nurse Practitioner
Family Nurse Practitioner
Women's Health Nurse Practitioner
Read about how to transition from RN to family nurse practitioner.
If you want to provide indirect patient care, focus your search on online MSN programs with specialties in research, education or nursing leadership.
These programs will prepare you for roles such as a nurse researcher, nurse educator, public health nurse or nursing administrator.
How well does the curriculum prepare graduates?
The best online MSN programs prepare graduates for practice in an advanced nursing role. Review the following items to determine whether a program achieves this goal.
Curriculum Content 
Online MSN curricula vary by program. But all are designed to meet the requirements set forth by national nursing organizations, certification boards, accreditation agencies.
At a minimum, online MSN program curricula:
Build advanced nursing competencies in 10 domains of knowledge, including person-centered care, interprofessional partnerships and quality and safety.
Prepare graduates with the competencies for practice in a specific advanced nursing specialty.
Include a combination of coursework and in-field practice.
Though not mandatory, a course on national certification is a bonus. It ensures that students are prepared to pass their national nursing certification exam.
Certification Exam Pass Rate
Learn how many program graduates have passed their national nursing certification exams. Find out by looking at the program's website or asking an admissions counselor.
The exam pass rate is a critical indicator of how well the program prepares graduates for practice. The higher the number, the more confident you can be in the quality of the curriculum.
What is the learning format?
Online nursing programs generally have two formats—fully online and hybrid. It's important to choose a learning format that is ideal for your personal and professional life.
Fully Online MSN Programs
MSN programs with 100% online coursework are ideal if you want the flexibility to work while earning your degree.
They typically have multiple start dates per year and no set log-in times. That means you can begin your online MSN whenever it's convenient and access your coursework anywhere, any time.
In a fully online MSN program, you will complete clinical rotations as close to your home as possible. Some also have an on-campus residency, which lets you interact with your peers and instructors face-to-face.
Hybrid MSN Programs
Hybrid MSN programs deliver coursework online and on campus. Clinical rotations may also happen close to wherever you live.
This type of online nursing program may be ideal if you can attend classes on campus and want more in-person interaction with your classmates and instructors.
What is the accreditation status?
Accreditation is essential for online MSN programs. It ensures that programs meet specific quality standards that prepare graduates to practice safely.
Attending an accredited program will ensure you meet the eligibility requirements for national nursing certification exams, state nursing licensure, most nursing jobs and many federal education grants and loans. 
Be sure the program you choose is accredited by an agency approved by the U.S. Department of Education.
The agencies that accredit online MSN programs include:
Commission on Collegiate Nursing Education (CCNE)
Accreditation Commission for Education in Nursing (ACEN)
Accreditation Commission for Midwifery Education (ACME)
How well regarded are the school's nursing programs?
Quality online MSN programs thoroughly prepare graduates for licensure and practice in their specialty area. In addition to accreditation, you can consider other quality indicators to choose an MSN program.
One is the outcomes of program graduates. Find out the proportion of graduates who've passed their national certification exams and the job placement rate. The higher the numbers, the more confident you can be in the program's quality.
You can also look to program rankings as a quality indicator. Online publications, such as Princeton Review and U.S. News & World Report, rank colleges and universities in numerous areas, including value and academic excellence.
What are the admission requirements?
Admission requirements are another factor in choosing an MSN program. The specific requirements vary by program.
Typically, online BSN to MSN programs require candidates to:
Hold a BSN from an accredited program.
Meet a minimum GPA requirement.
Have a current and unencumbered RN license.
Additional admission requirements may include:
Letters of recommendation.
An essay describing personal and professional goals and aspirations.
Completion of specific undergraduate courses, such as statistics.
As you weigh your online MSN options, pursue a program that aligns with your educational and professional background.
What is the program length?
How much time can you dedicate to your online MSN education? Your answer will be a crucial factor in choosing which program to pursue.
Most online MSN programs can be completed in two to four years. There are approximately 12 to 16 courses that run 10 to 15 weeks each.
Program length partly depends on whether you study full or part-time. The program learning format also makes a difference.
What are the faculty qualifications?
The best online MSN programs have faculty who will prepare you to succeed in the program and beyond. So before deciding which online nursing program to pursue, learn as much as you can about the instructors.
Look for a program with experienced faculty. You will benefit by learning from instructors who are not only passionate about their practice but active practitioners in their communities. They will help you apply your learning to the real world.
Also, assess the faculty's accessibility. Find out how big the class size is, how to contact the instructors during the program and how quickly they respond.
The faculty's level of support is also essential. Will the instructors mentor and guide you throughout the program, including during your clinical rotations?
What is the clinical placement process?
Online MSN programs for advanced practice nursing have multiple clinical rotations. These experiences are critical to developing the knowledge, skills and confidence for advanced practice in the real world.
As a student, you will complete several hundred hours of clinical experiences. For example, a minimum of 500 hours is required for national nurse practitioner certification. Each rotation will take place at an approved clinical site under the supervision of a preceptor.
With so much time devoted to clinicals, you will benefit from choosing an online MSN program that will help you find clinical sites and preceptors. This service is called clinical placement.
Benefits of Clinical Placement
It can be challenging to find clinical sites and preceptors on your own. The process can be complex, competitive and time-consuming. Clinical placement ensures that students focus on their coursework and get the most out of their online MSN education.
Clinical placement services can help you:
Meet Your Requirements and Preferences: The most effective clinical rotations are those that accommodate your clinical preferences, geographic location and program requirements—all at once. Programs with clinical placement will help you find clinical sites and preceptors that check as many of these boxes as possible.
Save Time: Clinical placement can save you dozens of hours. Finding your own sites and preceptors may take countless phone calls and emails to find an appropriate and available match. With clinical placement services, you will have more time to focus on your studies.
Minimize Delays to Graduation: Students who cannot find clinical sites and preceptors can be at risk of not graduating. Clinical placement prevents delays in clinical rotations, ensuring you graduate on time.
Furthermore, you may find clinical placement sites to be potential locations for future employment opportunities upon graduation.
Arranging Clinical Placement
Now that you know the benefits of clinical placement, look closely at the level of support offered by the online MSN programs you are researching. The clinical placement process varies widely.
Some programs offer comprehensive clinical placement. This means they will handle the process for you from start to finish. You will partner with a dedicated placement coordinator who will gather information about your competencies, experience and geographical preferences and then arrange all the logistics of your clinical rotations.
Many programs offer no placement assistance at all. In these programs, you will be responsible for all the details of securing appropriate clinical sites and preceptors for every rotation on your own.
Clinical placement is an invaluable service that can significantly increase the value of your education beyond the cost of tuition.
What is the return on investment?
Advancing your nursing education is an investment that will position you for a rewarding career.
You'll make a meaningful difference in people's lives and increase your earning potential. For example, with a mean annual wage of $114,510 as a nurse practitioner, an RN can increase their salary by an average of $34,500 as an NP.
To achieve the highest return on your educational investment, choose the best online MSN program for your budget.
Understand Tuition Cost and Financial Aid Options
The tuition for online MSN programs varies greatly, anywhere from $250 to $2,000 per credit hour. In general, the cost of private programs are higher than public programs.
If you need help paying for your online MSN education, you have several options. Financial aid is available through the federal government, states, universities and private sources.
To choose the best online MSN program for you, consider the tuition, available financial aid and your personal finances.
Federal Aid: The U.S. Department of Education offers federal grants and loans. Grants do not have to be repaid, but loans do. As you research your loan options, note the repayment terms. Common terms include the loan period, interest rate and penalties. You can apply for federal student aid by completing the FAFSA form.
State Aid: Many states also provide student financial aid. To see what's available where you live, consult the higher education agency in your state.
University Aid: Universities can offer various types of financial aid. Many award loans and scholarships based on financial need or merit. Some also have benefits for military personnel and their dependents. Check with the university's financial aid office to learn all your options. You will also need to complete the FAFSA form for university aid.
Employer Aid: If you are employed during your online MSN education, check with your employer about tuition reimbursement. It may pay for a portion of the costs associated with continuing education, such as earning an online MSN.
For more details and resources about student financial aid, visit the Federal Student Aid website.
Why choose Carson-Newman for an online MSN?
The number of nurses choosing to earn their MSN continues to increase. The FNP specialty is a popular choice because it enables graduates to provide holistic primary care to patients of all ages. As an in-demand FNP, you'll enjoy greater autonomy, high earning potential and a bright career outlook
Carson-Newman University offers a CCNE-accredited online Master of Science in Nursing – Family Nurse Practitioner (MSN-FNP) program specifically designed for working RNs. The MSN-FNP courses are delivered 100% online (excluding clinicals and practicum) in an intimate virtual learning environment.
Students like Christie Haase also value the program's built-in support and affordability.
"The primary pull that drew me into the program in the first place was their clinical placement assistance. Carson-Newman does the work for you, so you don't have to worry about it. And that's really important. I don't think there's another college out there that can offer what Carson-Newman does for the price that they offer it for."
Read more about why working nurses choose Carson-Newman Online.
As an online MSN-FNP student, you will benefit from:
Affordable Excellence: Carson-Newman's online MSN-FNP can save you up to $200 per credit hour compared to nationwide competitors. As a graduate, you will be fully prepared for FNP licensure and practice, which comes with a median total income of $115,000.
Comprehensive Clinical Placement Services: Carson-Newman's online FNP students are supported from start to finish, with comprehensive clinical placement services to help you fulfill up to 600 clinical hours.
Recognition for Nursing Excellence: Carson-Newman is a private college with over 160 years of history and educational excellence. It is recognized by U.S. News & World Report among the Best Value Schools, Best Regional Universities and Best Colleges for Veterans in the country.
Personalized Support: With Carson-Newman's small class sizes, you will receive personalized attention from caring faculty and exceptional support throughout your educational journey. The online MSN-FNP program offers clinical placement and preceptor support as well as guidance from a dedicated student success advisor and experienced, passionate faculty.
To get started in Carson-Newman's online MSN-FNP program, download our MSN-FNP Program Guide. You can also schedule an appointment with an enrollment advisor to get answers to any questions you may have.