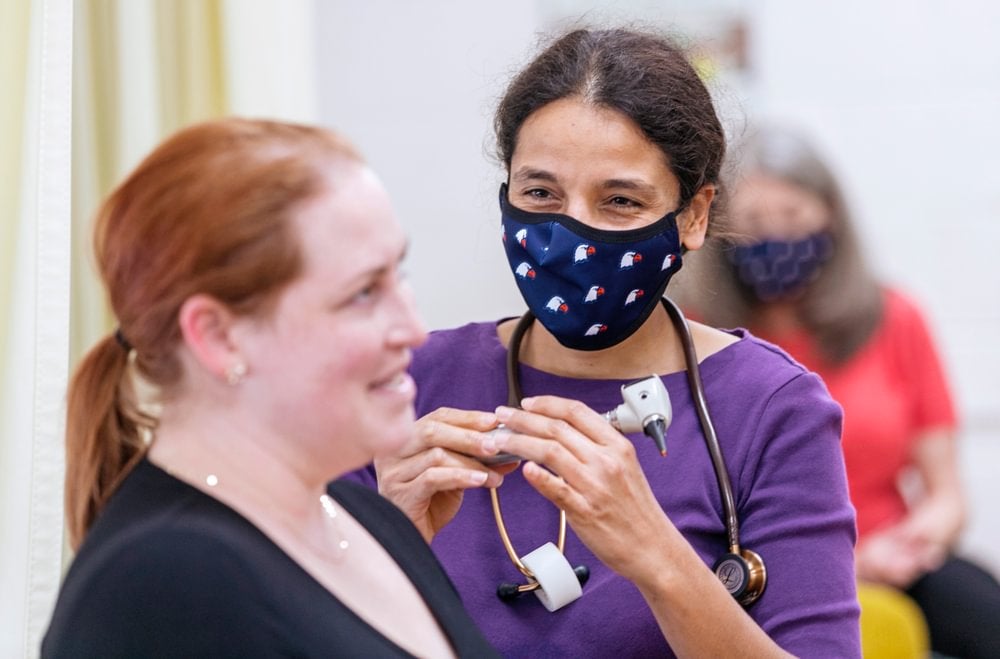 Are you considering becoming an FNP? If so, you're likely doing a lot of research and weighing your educational options. Nurse practitioner was ranked the #2 best job in 2022 by U.S. News and World Report, and for good reason. The pay, job opportunities and job satisfaction enjoyed by NPs surpasses many other professions. Becoming an FNP is achievable, even as a working nurse, and many FNP candidates complete their family nurse practitioner program online for maximum flexibility.
There are many benefits to taking an online nursing program, but most important of all, accredited online FNP programs are just as robust and well-recognized by employers as in-person programs. In this blog, we'll explore all you need to know about becoming an FNP and choosing a family nurse practitioner program, including:
What Is an FNP?
An FNP, or family nurse practitioner, is a registered nurse (RN) who has earned a master's or doctoral degree in nursing science or a post-graduate certificate and has specialized training in family medicine, a type of primary care. FNPs, like other nurse practitioners, are required certification through a national certification board in order to be licensed as a nurse practitioner.
What Does a Family Nurse Practitioner Do?
FNPs provide primary care to patients of all ages. They are certified to work with patients across the lifespan—from babies to geriatrics—and sometimes treat whole families. They often take a preventive approach to medicine and work with patients to achieve general wellness, though they are able to treat conditions as they arise and manage chronic illness. Some common responsibilities of an FNP include:
Conducting annual wellness exams and physicals
Prescribing medication
Ordering and interpreting labs and tests
Making treatment plans
Diagnosing acute and chronic conditions
Helping patients manage stable acute and chronic illness
Making referrals and managing care transitions for patients
Where do FNPs Work?
FNPs can work in a variety of primary care settings. Depending on your interest, desired flexibility and location, as an FNP you could work in:
Primary care offices
Outpatient care centers
School and public health clinics 
Offices of other health practitioners
Educational services
FNP Job and Salary Outlook
The job and salary outlook for nurse practitioners is one of the many reasons RNs are pursuing this advanced practice registered nurse role. NP candidates can be confident that their educational investments will pay off quickly after graduation with competitive pay and a competitive job market.
Nurse practitioners enjoy a strong job outlook. As a profession, they are expected to grow by 45% from 2020 to 2030, which is much faster than the average growth of all professions. The average annual salary of an FNP is $104,928 per year, according to the Clinical Advisory Salary Survey. 
Both salary and job openings for NPs are expected to rise as demand—particularly those who are qualified to work in primary care—continues to outpace supply. The Bureau of Labor Statistics projects that between 2020 and 2030, only about 44% of available jobs will be filled for the category including NPs, leaving the door wide open for aspiring FNPs.
Are Online Nursing Programs Worth It?
With so many family nurse practitioner programs to choose from, you may be wondering how online FNP programs measure up. You can be assured that online nursing programs are just as rigorous as in-person programs, are accredited by the same governing bodies, and are a great option for working nurses. Although their coursework is online, online FNP programs still involve in-person clinicals, which can often take place in a healthcare facility that is local to your area and convenient for you. This makes online nursing programs more flexible for nurses who don't want to stop working while pursuing their degree. It's also ideal for aspiring FNPs who can't relocate for school because of a variety of personal obligations. 
Is an Online FNP Program Right for Me? 
An online FNP program is a great fit for working nurses, nurses with families and busy schedules, and nurses who want to advance in their career. Nurses must have completed a bachelor's degree in nursing (BSN) and have an active registered nursing license in order to qualify for a master's-level family nurse practitioner program. If a nurse already has a master's degree in nursing, they can opt for a post-graduate certificate.
After completion of their degree, FNPs must maintain RN licensure. Nurses pursuing an FNP degree should have a desire to work in family medicine and an interest in developing long-term relationships with their patients—sometimes even with entire families.
Are Online Nursing Programs Credible?
The credibility of your nursing degree will not only help you secure employment, but it will give you the confidence to practice at the top of your scope. Online nursing degrees are just as credible and rigorous as those obtained fully in-person. If you're trying to determine the quality of an online nursing program, some good indicators of credibility include: 
Whether the program is nationally ranked
Board passage rates for graduates
How long the program has been preparing nurses
Student testimonials and faculty reviews
How Long Is Nurse Practitioner School? 
Completing a family nurse practitioner program can vary from school to school, but usually the coursework to earn a MSN degree takes about two years to complete at a full-time pace. In addition to coursework, FNP students must also complete at least 500 hours of clinical rotations. Many NP programs require clinicals to be completed during traditional business hours, Monday through Friday, which can conflict with work schedules for nurses who choose to pursue their degree without pausing employment.
At Carson-Newman University, aspiring NPs in the online MSN-FNP program can complete their coursework in as few as 32 months. When the time comes to complete clinicals, each student's clinical placement specialist helps them find a clinical site and preceptor so that they are not delayed in completing their program. Carson-Newman FNP candidates must complete three clinical rotations, plus an additional 60 clinical hours, totaling 660 clinical hours.
How to Choose an Online FNP Program 
If you've decided that an online nursing program is right for you, the next step is to choose the school from which you want to earn your degree. When selecting a school, it's important to consider several factors that will impact the quality of your education and your satisfaction as a student.
The Online Experience
Pursuing an online degree is a great convenience for nurses who continue working while completing their studies or for those who live remotely from their school. But online education is only as convenient and flexible as a school's technology allows it to be. When comparing online FNP programs, be sure to find out what tools each school uses and how accessible the content, coursework and faculty are. Some questions to ask yourself are:
Will I be able to access coursework 24/7 to meet my scheduling needs?
How often will I be able to meet with or ask questions of my instructors?
Will I have to log in at specific times?
How intuitive or easy-to-use are the tools that I will use to submit assignments?
Will I have any compatibility issues with the technology used by this school?
Will I have to make any investments in software, hardware or upgrades to use the school's technology?
Carson-Newman provides an intimate online experience. While many online programs have synchronous instruction—meaning students must log on according to a schedule—C-N students can access courses anytime and from anywhere using their computer or a mobile app. They are able to interact with their instructors and peers, and a dedicated student success advisor provides personalized support.
Residency Experience 
Residencies offer a great advantage to students transitioning from the classroom to the workplace. Choosing an online FNP program that includes a residency will help bridge the gap between what you learn in your coursework and the real-world challenges you will face on the job.
Aspiring FNPs at Carson-Newman participate in a three-day residency, usually in their third or fourth semester. This experience takes place on campus and features a combination of lecture, hands-on practice of assessment, and demonstration of clinical skills. Students have the opportunity to meet their instructors and peers face to face and hone their health assessment skills. The three-day experience breaks out like this:
Day 1 - Students attend a lecture on health assessment and practice conducting physical assessments on models, which is recorded for review. Students have a chance to meet and network with other residents.
Day 2 - Students receive instruction based on challenges identified on Day 1 and continue to practice exams on partners they are paired with.
Day 3 - Students demonstrate their skills in front of faculty. 

Faculty 
Another critical component of program selection is faculty. For an online FNP program, you may want to seek out schools whose faculty have clinical experience, particularly in family medicine and/or primary care. It's important to choose a program whose faculty are evolving with the field. One way faculty stay current is by conducting and authoring research. As you consider different programs, you may ask yourself:
Have faculty published any research in the last few years? 
Are they actively conducting research?
Carson-Newman's FNP faculty comprises a team of educators from a variety of backgrounds and specialties. They are working nurse practitioners, researchers and seasoned experts ready to help prepare the next generations of family nurse practitioners.
Accreditation
It's important to choose an online FNP program that is accredited by one of the major nursing accreditation bodies:
Accreditation gives students and their future employers the confidence that their degree is backed by a rigorous education that will prepare them for the workforce. Carson-Newman's FNP program is accredited by the Commission on Collegiate Nursing Education.
Testimonials
Another useful source of information to consider when choosing an online nursing program is student testimonials. These first-hand accounts will help you envision what your experience will be like and can validate some of your concerns or questions. For instance, maybe the biographies of a school's instructors are impressive, but you may wonder how attentive, supportive and approachable they are in the classroom. Testimonials are a great place to see how past students rate their interactions with faculty. Some may even share specific anecdotes about experiences they had with teachers or administrative staff.
Carson-Newman students consistently report some major benefits of the online FNP program, including:
Clinical placement assistance
Affordability
Convenience and flexibility for busy students
Responsiveness of faculty
ROI: Potential Salary vs Cost of Program 
Finally, you'll want to evaluate the cost of tuition when comparing online FNP programs. Cost is not always an indication of quality, and you may find that out-of-state tuition for in-person programs is higher than for state residents. When considering the cost of a program, you'll want to factor in the number of credit hours required for completion of the degree and the cost per credit hour. Not all programs require the same number of hours, nor are they priced equally.
Once you have calculated the cost of the coursework, you'll also want to analyze what you expect to earn with your degree and how quickly you will be able to see financial gain from it. We know that the average annual salary for an FNP is almost $105,000. If you factor in your typical living expenses, plus the cost of tuition, you should be able to project how long it will take you to pay for your degree and at what point you will be able to fully realize the financial gains of your new credentials.
Carson-Newman is a private university whose online programs are priced comparably to a state institution. Based on the cost per credit hour and the number of hours required for completion, it offers a rigorous degree at an affordable price of just under $30,000. The Princeton Review recognized C-N in 2022 for excellence in academics and student experience, and C-N is ranked as a top school in Tennessee for value, nursing programs and online degree programs. 
Carson-Newman's Online MSN-FNP Program
Carson-Newman is a nationally ranked Christian university with a more-than-170-year history. Its online nursing programs are designed to be flexible, affordable and produce the best outcomes for students — including preparing nurses to be evidence-based, autonomous caregivers. 
If you're ready to take the first step toward a rewarding career as an FNP, visit the Carson-Newman MSN-FNP page, or download the program guide.