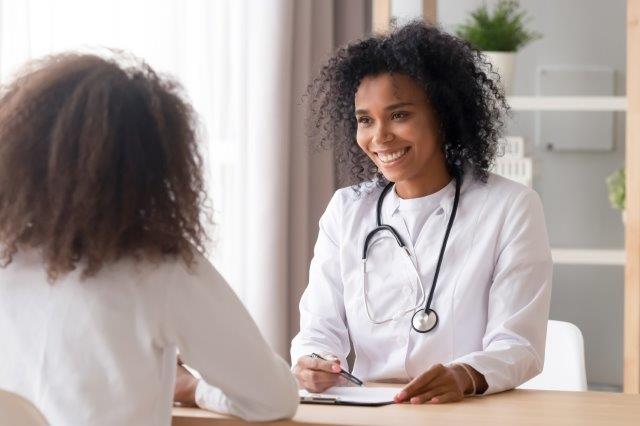 Learn more about Carson-Newman's online BSN to family nurse practitioner program.
As you consider transitioning your career from a registered nurse (RN) to nurse practitioner (NP), you may be wondering what to expect during your first year in your new role.
Students in Carson-Newman University's online MSN-Family Nurse Practitioner (FNP) program are prepared to thrive as holistic nurse leaders. At Carson-Newman, we value knowledge and equip nurses to become advanced practitioners, which is why we've written this article on transitioning from RN to nurse practitioner, so you can be prepared and confident in your new FNP role.
What is the Role of Nurse Practitioners?
A nurse practitioner is an advanced practice registered nurse (APRN) who has attained either a master's or doctorate in nursing, and has passed a national licensure exam.
As an aspiring NP, a combination of higher education and hands-on clinical work will help you transition from RN to nurse practitioner and be prepared for the real world.
Nurse practitioners can work in a variety of specialized fields, including:
Family Practice
Adult or Gerontology Primary Care
Acute Care
Pediatrics
Women's Health
Psychiatric and Mental Health
Hospice and Palliative Care
A Closer Look at Family Nurse Practitioners
A family nurse practitioner (FNP) is a type of nurse practitioner whose specialty is in family health care. An FNP works with patients of all ages, providing care to the needs of adults, children, adolescents, women, and elderly patients.
Many FNPs share similar responsibilities as family physicians, diagnosing and treating illnesses and conditions, prescribing medications, and providing medical care over a patient's lifespan.
How to Start Strong During Your First Year from RN to Nurse Practitioner
Change is difficult, and growing from your familiarity and identity as an RN to nurse practitioner won't be an exception. The goal, of course, is to find healthy and productive ways to make the adjustment so that you can enjoy the benefits and see your hard work pay off. Below are some key areas of focus to ensure your first year is as successful as possible.
Maximize Your Prior Training and Experience
One of the most abrupt challenges in making the move from RN to nurse practitioner has been described as taking a "step backward in expertise." You've likely grown comfortable in your role as an RN, mastering the daily tasks and developing well-earned instincts. Your first year as a nurse practitioner will require you to master learned tasks and develop new instincts.
However, your years of work as an RN are crucial and will continue to serve you well as you grow into your new role. For instance, much of your time will be spent navigating the core elements of health care you already know well, including:
Patient interaction and care
Mental focus and endurance
Working relationships with other health care providers and staff
Foundational medical and health care knowledge
Effective communication skills
Your first year will be spent building new expertise in your transition from RN to nurse practitioner. Still, you'll be well-prepared to adapt by leveraging the foundation of knowledge, experience, and intuition you've already developed as a nurse.
Own Your Learning Process and Ongoing Professional Development
New nurse practitioners need to be mindful of the adjustment phase that occurs from leaving academia to learning on the job. Research indicates that those transitioning from RN to nurse practitioner had more positive first year experiences when completing a more formal orientation process. However, a formal orientation isn't always available in every health system.
While standardized orientations and training would be preferable, knowing ahead of time that you may not receive structured guidance is key. You can start preparing before you even begin your new role by taking charge of your own professional development and focusing on what you can do for yourself.
You can talk to teachers and mentors about specific ways to prepare for your first year. Locate experienced nurse practitioners who are willing to offer counsel about how to best prepare and adjust.
You also can make educated inquiries before accepting a job offer. Search for programs and opportunities that aim to equip new FNPs as they learn their new role.
One strategy may be to search for residency and fellowship programs designed for new graduate NPs.The National Nurse Practitioner Residency Training Consortium assists health care organizations in establishing these kinds of training programs, so make a point of identifying how you might take advantage of a growing number of such opportunities.
Such training programs reflect a growing trend of recognizing the need for minimizing stress for new nurse practitioners, which is good news for those making the change from RN to nurse practitioner in years to come.
Develop Strong Professional Relationships
While taking ownership of your learning and development is essential, you will still need the support of others. In fact, one of the most effective ways to stimulate your success is to cultivate peer and mentor relationships—this will improve your job satisfaction early on, as well as your effectiveness as you transition from RN to nurse practitioner.
Research demonstrates that collaboration and team building among medical professionals has a number of positive outcomes. Fewer medical errors are made and patients experience better results and greater satisfaction with care.
Reports from the American Nurses Association (ANA) also suggest several helpful strategies for encouraging better collaborative environments, particularly between physicians and nurse practitioners, including:
Focusing on team-building, not just individual goals
Cultivating emotional maturity
Recognizing and avoiding negative behaviors
Continuing to improve communication skills, especially in emergencies
Learning to understand and appreciate the perspectives of others
Practicing self-care to avoid compassion fatigue
Managing conflict wisely
Learning to negotiate respectfully
Another strategy to help you transition from RN to nurse practitioner is partnering with a mentor who can shepherd you through some of the challenges during your first year.
Some mentorships may already be built into orientation or residency training for new NPs, though you can always network and find your own mentor if these options aren't available.
The Institute of Medicine's Future of Nursing report demonstrates that the best path to producing excellent nurses is guidance from established nurses. This continues to be true for APRNs.
As you begin your first year on the job, consider looking in these places for one or more mentors who can help you transition effectively from RN to nurse practitioner:
Your nursing school or clinical practicum sites
Your workplace or local area
Professional nursing organizations
Students in Carson-Newman's online MSN-FNP program enjoy support from a close community of faculty and staff who care. Learn why Carson-Newman ranks as a top school and how students benefit from a student-centric approach.
Why Should I Transition from RN to Nurse Practitioner?
The nurse practitioner role is growing exponentially, as is the need for dedicated professionals who want to advance from RN to nurse practitioner.
Those interested in transitioning from RN to nurse practitioner enjoy a wide range of benefits including high job satisfaction, more career autonomy, and a bright career outlook.
In fact, U.S. News and World Report recently ranked nurse practitioner as the #5 job on its overall 100 Best Jobs of 2020 list, the #4 best healthcare job, and the #5 best job in science, technology, engineering, and math.
Career Growth and Opportunities
As you move from RN to nurse practitioner, you'll find that there is no shortage of job opportunities in your NP role.
That's because job growth for nurse practitioners is projected to increase by 28 percent until 2028. This is more than five times the growth rate for all professions and over twice the anticipated growth rate for registered nurses.
With an anticipated shortage of nearly 50,000 primary care physicians in the United States by the year 2030, NPs focused in primary care will continue to be in high demand.
Family nurse practitioners are uniquely poised to help alleviate the physician shortage due to their ability to treat across the lifespan and serve a wide range of patients. The need for skilled FNPs is even greater in rural and underserved communities around the country. An estimated 84 million Americans live in rural or inner-city areas that are considered underserved.
Read our blog on how FNPs fill the gap in primary care.
More Flexibility and Autonomy
As you move from RN to nurse practitioner, you'll enjoy more career autonomy and a wider range of clinical duties, including the ability to:
Evaluate and diagnose patients
Order and interpret diagnostic tests
Initiate and manage treatments
Prescribe medications
In many states, NPs have full practice authority, meaning they can operate independently and even run their own clinical practice.
In the United States, 65% of NPs are certified in family care. Due to high demand, FNPs in particular have a wide range of environments they can work in, ranging from private practice to urgent care facilities, hospitals, schools, and more.
Substantial Growth in Income
Those who transition from RN to nurse practitioner will also see a significant boost in salary potential. NPs make an average of $109,820 annually, compared to the median income for RNs, which is $73,300. As your experience and practice grows as an NP, you'll likely see increases to your salary over time.
Higher income, along with a bright outlook, more autonomy, and the ability to provide holistic care for patients throughout their lifespan, all contribute to a rewarding career as you make the shift from RN to nurse practitioner.
How Carson-Newman Supports Students Transitioning from RN To Nurse Practitioner
While there are challenges to the transition from RN to nurse practitioner, Carson-Newman's online MSN-FNP program is uniquely designed to empower working nurses to succeed in taking that career step and to thrive in their new role.
Those enrolled in Carson-Newman's online graduate nursing programs benefit from a flexible, student-focused approach designed for working nurses, including:
Expert faculty who prioritize student success
An intimate learning environment marked by smaller class size
Individualized support throughout the program from a dedicated Student Success Advisor
Clinical placement support, which saves many hours of time and enables students to stay focused on the program without the stress of finding their own clinical opportunities
Hands-on residency training to provide a broader clinical experience and competence
Your best strategy for facing challenges in your first year is to choose a path where you're prepared from day one, and that is the focus of Carson-Newman's online MSN-FNP program and online post-master's FNP Certificate program.
Learn more about the benefits of becoming a nurse practitioner.
Watch the video below to hear from an FNP student, Zenab Mahmoud, on how Carson-Newman's close community is helping her reach her goals in nursing.
"The supportive staff [is] very attentive, they're willing to lend a hand whenever you're in need... You won't feel alone at all."
Become a holistic nurse leader with Carson-Newman's online MSN-FNP program or online post-master's FNP Certificate program.