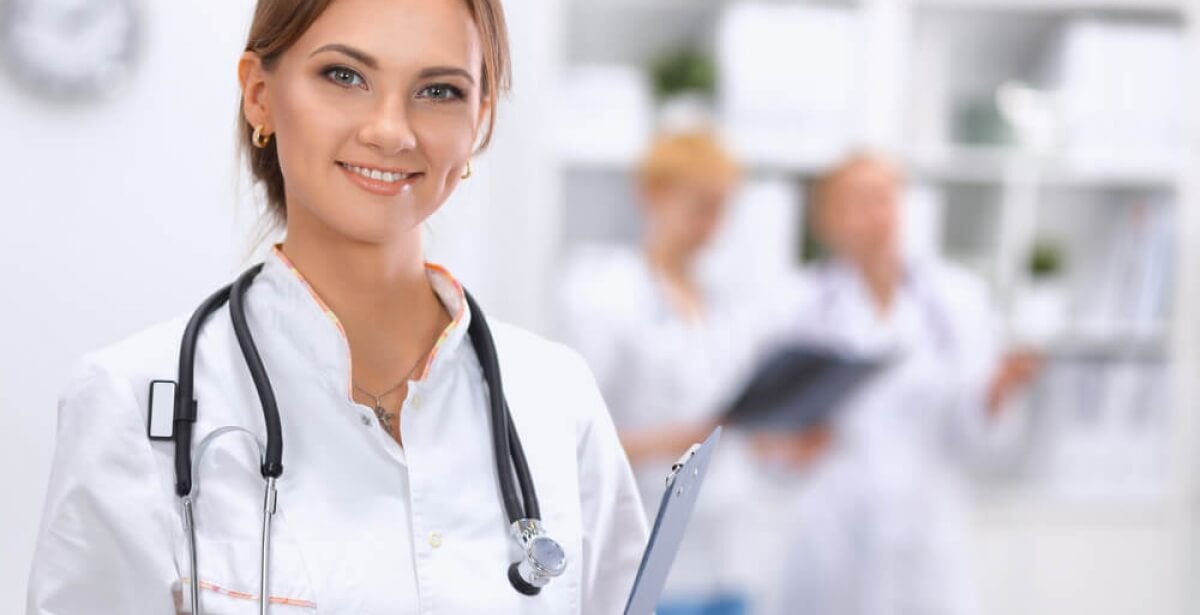 This article has been updated on May 18, 2023.
Every day, millions of Americans rely on their primary care provider for diagnosing, treating, and answering questions about their health care. These providers give patients access to both preventative medicine and acute care, addressing a wide range of conditions and coordinating with specialists for care that needs additional expertise. Primary care providers develop long-term relationships with patients that carry across the lifespan, which gives them unique insight into their patients' concerns.
Healthcare industry experts say that qualified primary care providers are in increasingly short supply, forecasting a primary care gap that will strain the US medical system. The American Association of Medical Colleges (AAMC) is estimating that by 2023, the United States could be short 122,000 primary care providers.
This number would be alarming enough, but there are a few other statistics that show just how much this shortfall could impact patients and lead to poor health outcomes. Access to primary care is already less than ideal for individuals and families who live in lower-income or rural areas. And with six out of ten Americans living with a chronic health condition, the demand for healthcare has never been higher.
Historically, primary care providers (PCPs) have been licensed MDs and DOs. But increasingly, nurse practitioners with an MSN-FNP degree are working as PCPs in a variety of healthcare settings. According to the American Association of Nurse Practitioners, there are 335,000 licensed nurse practitioners in the US as of 2022, with 70% delivering primary care.
Nurse practitioners are stepping in to make up the primary care gap, but many more will be needed in coming years to address the physician shortage. Let's break down how nurse practitioners can act as primary care providers and ways they shape the healthcare landscape.
What Is a Family Nurse Practitioner?
A family nurse practitioner (FNP) is an advanced practice registered nurse with a degree in family medicine. The certification requires a master's degree, but some FNPs have a doctorate. An FNP is certified to diagnose, treat, and provide care as a primary care nurse practitioner. They are trained to act as independent clinicians and can assess and manage medical conditions. Roles and responsibilities for an FNP can include:
Diagnosing and treating short-term health problems that require immediate or emergency intervention (acute)
Diagnosing and treating long-term health problems that require an ongoing treatment plan and lifestyle modifications (chronic)
Supervising, ordering, and interpreting diagnostic and laboratory tests
Assessing patient risk factors based on individual health history and genetic factors
Prescribing medication in all 50 states and the District of Columbia
Patient education
Advocating for patients
Preventative medicine
The median pay for a nurse practitioner in 2021 was $123,780, according to the Bureau of Labor Statistics. Qualified APRNs may earn more or less, depending on their job speciality, level of experience, cost of living in their area, and other factors. That's $46,000 more than the median annual salary for licensed RNs during that same year.
The Expanding Role of Family Nurse Practitioners
Family nurse practitioners have enhanced clinical expertise that informs their patient care. FNPs are uniquely positioned to provide patient-focused primary care tailored to a variety of populations, including infants, children, adults, adolescents, seniors, and those in historically marginalized groups. So perhaps it should be no surprise that 70.3% of nurse practitioners choose family medicine as their primary certification.  
The US Bureau of Labor Statistics is projecting a 40% job growth rate for nurse practitioners by 2031, noting that this profession is growing much more quickly than most other career paths. APRNs (advanced practice registered nurses) are expected to continue to fill primary care provider roles, contributing to this high level of demand. The public, healthcare employers, and state legislators are all recognizing the crucial role that advanced practice registered nurses, including nurse practitioners, can play in closing the primary care gap.
FNPs can already be found in nearly every health care setting, according to the AANP's Scope of Practice fact sheet. Workplaces that welcome nurse practitioners include:
Outpatient clinics
Hospitals, including magnet hospitals
Urgent care sites and emergency rooms  
Private practices, including some owned by nurse practitioners
Colleges and universities
Nursing homes
Home health settings
Veteran Affairs clinics
Indian Health Service and tribal medical facilities
Nurse Practitioners' Excellent Results
Family nurse practitioners aren't just helping to fill the gap in primary care due to a lack of physicians. FNPs are a strong asset to the healthcare community, according to the medical literature — and patients themselves.
Increasing Autonomy and Utilization of FNPs
FNPs are in high demand and they have a proven track record for excellent results. But in the past, restrictions on the scope of practice for FNPs have discouraged some aspiring APRNs. The good news is that lawmakers are recognizing the contributions and importance of FNPs, and new legislation is expanding the legal autonomy of FNPs in many states.
 
Nurse practitioners already hold prescriptive privileges, including the ability to prescribe controlled substances, in all 50 states and D.C., and 96% of NPs who are currently in practice prescribe medications. As of this writing, 26 states and Washington D.C. allow family nurse practitioners to practice independently of physicians, allowing FNPs to open and manage their own primary care practices.
States with what's known as full practice authority for FNPs include:
Alaska
Arizona
Colorado
Connecticut
Delaware
Hawaii
Idaho
Iowa
Kansas
Maine
Maryland
Massachusetts
Minnesota
Montana
Nebraska
Nevada
New Hampshire
New Mexico
New York
North Dakota
Oregon
Rhode Island
South Dakota
Utah
Washington
Washington DC
Wyoming
Bring Care to Those in Need as a Family Nurse Practitioner
The demand for family nurse practitioners is not going to slow down any time soon, and opportunity awaits those who pursue an MSN-FNP degree. You can become part of the primary care gap solution while helping many patients in need of compassionate care as a Family Nurse Practitioner.
Carson-Newman's MSN-FNP program is 100% online, with the exception of clinical hours and residency requirements. It is designed for registered nurses who already have a bachelor's degree. The rigorous program can get qualified candidates an MSN-FNP certification in as little as 32 months.
With clinical placement assistance and an affordable price point, C-N's MSN-FNP program gives you all the support you need to succeed. Contact us to find out more about the Master of Science in Nursing–Family Nurse Practitioner online program.