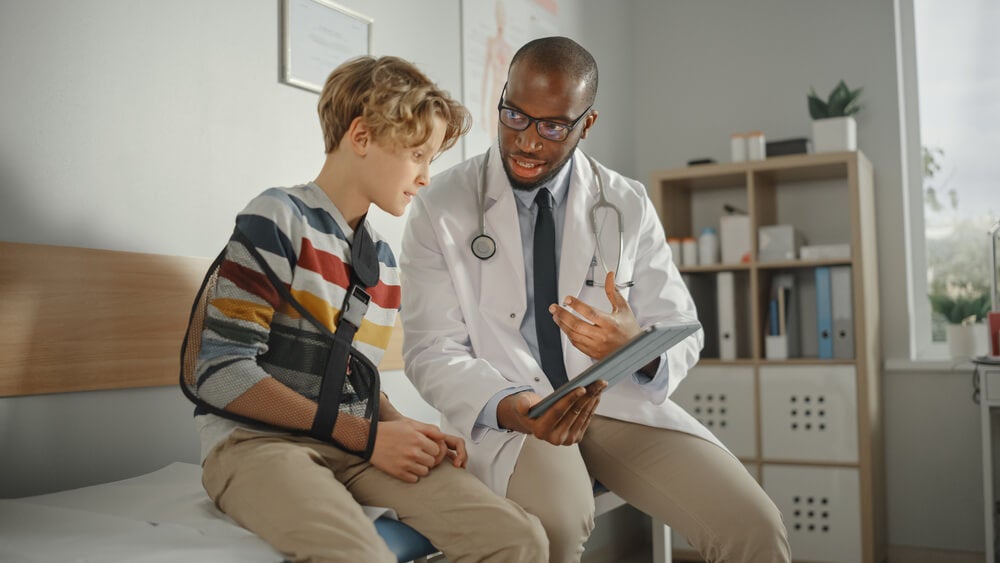 If you're considering or working toward a role as a family nurse practitioner (FNP), you likely already know that it is a rewarding career that provides autonomy, financial benefits and professional satisfaction. It also offers many options in terms of scheduling, patient population and settings where a family nurse practitioner can work.
This blog will explore the different settings where an FNP can work and how they can influence the job description and salary of a family nurse practitioner. It will also examine the role of the FNP in the health care field. 
FNPs in the Medical Field: What Does an FNP Do?
FNPs are a type of nurse practitioner, an advanced-practice nurse who has completed at least a master's degree in nursing or a post-graduate certificate specializing as a FNP. About 65% of new NP grads in 2020 were certified FNPs. FNPs have specialized education in family medicine, which means they can treat patients across the lifespan, from pediatrics to geriatrics. Because of this breadth of expertise, FNPs sometimes treat entire families and build life-long relationships with patients.
FNPs focus on helping patients maintain general wellness through preventive medicine and primary care. They can also diagnose and manage chronic illness and acute conditions, but their scope does not include patients who are critically ill with life threatening conditions. They often collaborate with other providers to refer patients to specialty care when the patient's needs are outside the scope of FNP practice.
Some specific FNP roles and responsibilities include:
Conducting annual wellness exams and physicals
Prescribing medication
Ordering and interpreting labs and tests
Making treatment plans
Diagnosing acute and chronic conditions
Helping patients manage stable acute and chronic illness
Making referrals and managing care transitions for patients
FNP Practice Authority
FNPs are just one of the types of nurse practitioners whose practice authority varies from state to state. Practice authority refers to the scope of care a nurse practitioner is allowed to provide under a state's laws. According to the American Association of Nurse Practitioners (AANP), currently more than 50% of the United States and its territories have granted NPs full practice authority. The remaining states and territories place some limitations on NPs, such as requiring supervision or collaboration from a physician. Location can therefore reduce or expand the possibilities of where FNPs can work.
Care Settings Where a Family Nurse Practitioner Can Work
1. Primary Care Offices
In places where NPs have full practice authority, FNPs serve as many people's primary care providers. In states where practice authority is limited, FNPs may work alongside primary care physicians. Primary care is one area FNPs can make a big impact because the nation is facing a shortage of primary care providers, especially in rural areas. FNPs have an opportunity to support underserved patient populations by filling this gap. These offices typically have more limited hours than a hospital or urgent care setting, so they provide a greater level of work-life balance that some FNPs desire. 
2. Outpatient Centers
Outpatient centers are a growing care setting that provide patients the opportunity to receive convenient care without an extended hospital stay. FNPs may assist physicians in these clinics with minor procedures. Outpatient centers also have more traditional business hours, which can be appealing to FNPs looking for flexibility in the evenings and on weekends.
3. Schools and Public Health Clinics
Some FNPs work in school-based clinics, where they provide primary care to students. Their work with this population may include screening for mental and behavioral health concerns and counseling kids on risky behaviors. Like in primary care offices, FNPs in public health clinics conduct wellness check-ups and often help underserved communities by making primary care more accessible and affordable. They might also focus on specific care needs within public health such as tuberculosis, infectious disease, or an STD clinic.
4. Long-term Care Facilities
FNPs are well-suited to work in long-term care facilities, where patients are at high risk for hospital admission and can have complex needs. Because they are skilled in collaborating and coordinating care among specialists, FNPs can be the liaison between patients and their interdisciplinary care team. 
5. Physicians' Offices
FNPs who work in locations with limited practice authority may find that physicians' offices are their primary option for employment. Local laws may require that these FNPs work in collaboration with or under the supervision of a physician. Still, in these settings, FNPs provide high-quality care, and practice to the fullest extent allowed by their jurisdiction.
6. Academia (Colleges and Universities)
Some FNPS who are drawn to training and mentoring or even research may find that academia is an appealing professional setting. In a college or university, an FNP can teach the next generation of nursing students, conduct research and even help shape nursing policy.
Salary of a Family Nurse Practitioner
The average annual salary of an FNP is $104,928 per year, according to the Clinical Advisory Salary Survey. The actual salary of a family nurse practitioner varies and is influenced by a number of factors, including:
Location
Years of Experience
Care Setting
Seniority (in leadership or management)
Join the Growing Ranks of FNPs
If you are a nurse looking for greater autonomy to build long-term relationships with your patients and influence their overall health, the first step toward becoming an FNP is to earn a graduate degree in nursing science. 
Registered nurses who already have a bachelor's degree will want to pursue a master of science in nursing (MSN-FNP) degree, and nurses who already have a master's degree may opt for a post-master's certificate (PMC-FNP). 
Choosing an FNP Program 
There are many options to consider when choosing a nursing school, but for many nurses aspiring to an advanced-practice role, completely pausing their jobs and uprooting to attend a college or university can be a barrier. For these aspiring FNPs, an online MSN-FNP degree is an attractive option because it offers:
A respected, accredited education
The flexibility to continue working while pursuing your degree
The ease of completing your courses from home, without the expense and strain of relocating
Supportive clinical placement near your home
Carson-Newman University's Online FNP Programs
Carson-Newman is a nationally ranked Christian university with a more-than-170-year history. Its online nursing programs are designed to be flexible, affordable and produce the best outcomes for students — including preparing nurses to be evidence-based, autonomous caregivers. 
Carson-Newman provides asynchronous instruction—meaning students can access courses anytime and from anywhere using their computer or a mobile app—as they achieve weekly milestones. They can interact with their instructors and peers, and a dedicated student success advisor provides personalized support. Carson-Newman's MSN-FNP program is accredited by the Commission on Collegiate Nursing Education.
If you're ready to consider an online FNP program, download your program guide today.