What Our Students Are Saying
What Our Students Are Saying
Rhonda McAnally, MSN-FNP Student
Current MSN-FNP Student
Tell us your name and your expected graduation date.
My name is Rhonda McAnally and my expected graduation date is Spring of 2021.
What's your favorite part about being a nurse?
My favorite part of being a nurse is the patient interaction and also the variety of the types of patients that you see every day. Every day is a new challenge, every day is a new expectation and also a new potential diagnosis or something to learn. Being a nurses, just continually learning and trying to improve your skill set and then also improve your knowledge.
When did you decide you wanted to be a nurse practitioner?
I had been away from bedside nursing for about 10 years in more of an education and administrator role at my hospital where I currently work.
The reason I wanted to become a nurse practitioner is I really miss the patient interaction, and also I have been looking for a very flexible program to where I could fulfill my life long dream of becoming a nurse practitioner.
Tell us about your educational background.
My educational background started in 1988 after graduating high school, I started an Associate's degree program, registered nurse, I became a registered nurse in 1991, waited some years, got involved in Medical Center and hospital, worked emergency and trauma and decided I needed to further my education, so I started back to school in 2003, graduated in 2007 with my Bachelors of nursing and took an administrative role at the medical center, so now I'm currently pursuing the nurse practitioner, and I started back in the fall of 2018 to fulfill my life long dream.
What are your future plans and how do you plan to achieve them?
Future plans are to become a nurse practitioner and probably re-invest myself back in emergency and urgent care nursing.
That's where my passion is, that's where I feel like that I belong because my total career has been involved with taking care of those critically ill or injured.
What impact do you want to have on the nurse practitioner profession?
Impacts that I want to make on the nurse practitioner program is to show that individuals can get exceptional care and holistic care. I also [want to] be an adjunct to the physicians, or surgeons, in providing what I'm trying to say more of a holistic approach to the nursing and caring and compassion side. Also mentoring other nurses to fulfill their dreams, and it's never too late to learn something new and also acquire knowledge to help another individual. I believe that some of that is missing with the healthcare profession today.
People do not need to be treated like a number. They need to be treated with compassion, they need to be treated with respect.
And I feel like the nurse practitioner role can be expanded to where you're spending more time with your patients and truly educating them about their conditions and also being a adjunct to the physician and their practice.
Tell us what attracted you to the program at Carson-Newman and how did you know it was a right fit for you?
I relied a lot too on my faith. And when I saw that this program had becoming available, I had already investigated other programs in the area that offered a MSN FP option. I believe this option was right for me because it really catered to working adults, and also working nurses and it's been very flexible with my Monday through Friday 10 hour day schedule, being an administrator role in the hospital and also being able to access my studies on my time with some time-frames of deadlines that you have to meet. But I have found that the instructors have been incredibly flexible with work schedules, and been very understanding. So one thing that appealed to me was the faith-based and the Christian-based option and also the flexibility of the program.
What are your expectations from your Carson-Newman educational experience?
My expectations: I become a great an exceptional nurse practitioner, to be able to provide that holistic care to individuals who are in need and to really just fulfill a life-long dream of mine, to be able to be a provider and be able to spend the type of time I want to spend with patients.
How do you balance work life with your online courses and your personal obligations?
Very carefully. I have to plan. I have to plan when I'm gonna study, and then I also have to balance that time and spend time with my husband and children and usually I try to set aside Sundays after church to do that, either spend some call to time with my family because we all have busy and hectic lives and then also de-plug from each situation that I'm in. So try not to let work bleed into family time or school in a family time but also know that I have to have a certain amount of time set aside to complete my homework, and studies as well, so that's how I've tried to balance it myself personally.
What advice do you have for potential students considering enrolling in the program?
Talk to the student advisors, see if you can access the faculty. Most everyone before I enrolled if I had questions, I felt like they were answered and they were very prompt in their responses back to me. I'd also talked to individuals who had been on campus and participated on the on-campus program, and found that this was the absolutely right fit for me and I prayed a lot about it as well.
Have you been able to integrate what you've learned in the program so far, in your current job and if so, can you give me an example?
In my current role, one thing that I'm responsible for in my professional job now is I have to do research in community health needs assessments, so learning about the theoretical framework last semester, and the nursing theories as a basis to provide holistic care to individuals I felt was very, very eye-opening the pathology, the physiology kind of comes and then tying everything together in the physical assessments. But to me that's one thing that's really stood out so far in this program for me and been very eye-opening and knowing the basis of those theories and applying to how I approach doing a community health needs assessment or looking at targeted needs in the community.
How did working with a dedicated student support advisor impact your educational experience?
It has made all the difference in the world.
Any question that I had about the program or any issues that I thought that I was having, whether it was connectivity with internet or connectivity with my instructors, I felt my student advisor was key in making it all work and there hasn't been a question that I have had that has not been promptly answered. And you just don't find that with other programs, especially online programs, that accessibility.
Tell us about your experience with the faculty of the program, is there one thing that stands out most to you about it or about them?
I would have to say yes, actually, Dr. McCurry this semester who I've been assigned to with my video assessments has been so responsive, so good with feedback and letting me know about my approach, and what I've been doing with my assessment skills and how to do it correctly but in a kind and gentle way, and very encouraging, you know, don't give up, it takes practice, it takes you doing this every day, to really get and master the concept. So to me that's really stood out. And then also the Skpye sessions with any of our instructors and the interaction. Dr. Casanova, Dr. Bolton those have been incredibly helpful throughout the semester.
Do you find having small class sizes makes you feel like you're receiving more individual attention from the faculty?
I would have to say yes. And it's also a good opportunity to come together with your colleagues and classmates. You all are continuing a journey together and that journey consists of support and drawing on each other strengths and also weaknesses to where you can help your fellow colleague 'cause we're all on on this journey together, we all have goal to become a nurse practitioner. So I feel like the smaller class sizes are very instrumental in providing not only collegiate support, but also a learning environment conducive of respect and just getting to know one another knowing that you're not alone 'cause most of us who are in this room have families. We also have job responsibilities, we're all RNs. Some of us have similar background, some do not, so we're drawing off each other's knowledge base, and then also support to get through the program.
Did you find the faculty to be accessible, responsive, supportive, and professional?
I would have to say Yes the faculty that I've been involved with have been very supportive and accessible, either through email or even so far is going to give us their personal cell phone numbers to access them at any time.
Started the RN-BSN program in 2014,Graduated in December 2016
View examples of Lori's coursework while enrolled at Carson-Newman:
Why did you choose to a career in Nursing?
I've been a nurse for a long time. I know at the age of 23, I wanted to make a difference, and have a secure career with a good income. I thought nursing might be a good fit for me, and it was a good choice!
What makes a great nurse in the field?
A great nurse has a solid education, a lot of experience and compassion for patients. They must also be non-judgmental and willing to go to battle and advocate for their patients.
What was your opinion about online learning prior to you applying to the program and how has your opinion changed since starting the program?
I have been enrolled in an online program before. Entering into Carson-Newman was fairly easy process. I was very comfortable learning online.
What factors influenced your decision to earn your BSN degree online?
I needed to balance my family and work obligations, while caring for my mother.  Online was the only option for me.
As an RN, why was it important for you to earn a BSN degree?
My goal is to be a Nurse Practioner, which requires a Master's degree.  I'm already in a master's program at a different school, which requires a BSN. Also, most hospitals are going to magnet status so now, a BSN is a necessity.
How has your previous nursing experience prepared you for the BSN program?
The RN-BSN program at C-N blended well with my previous experience and helped me gain a deeper understanding. I used my past experiences with various diseases and injuries as fodder for my writing assignments and research papers.
Why did you decide to earn your BSN from C-N?
The main reason was that it was a Christ-centered program. My faith is the most important part of my life and I carry that into my career. Secular colleges will teach you how to be a good nurse, but the Christian principles taught at C-N add value to nursing practice.
What has been your experience as an online BSN student at C-N?
It was a very good experience and that has to do with what was going on in my life at home. Two weeks into the program my father in law died. My mom got sick and passed away right before I finished the program. The faculty was so caring and supportive during those difficult times. They never questioned me at all – the faculty was completely understanding and supportive of what I was going through, and they were there for me.
The program itself was extremely doable. They don't rush you to complete a bunch of classes at the same time, and that was extremely helpful.
I started the Online RN-BSN program in 2014 and graduated in December of 2016. I could have finished the program sooner if not for family health problems.
Has your investment in the program been worth it?
Absolutely.
What advice do you have for potential students interested in the program?
Do it. It's doable, if you have a family and if you work, you can do this. You have to be disciplined, but you can do it. It's a path to a higher degree and a higher salary and it's totally doable.
What is your experience with the faculty support?
They were always there when I had questions and ready to help me anytime. The faculty was very supportive, caring and helpful.
Which faculty member stands out the most?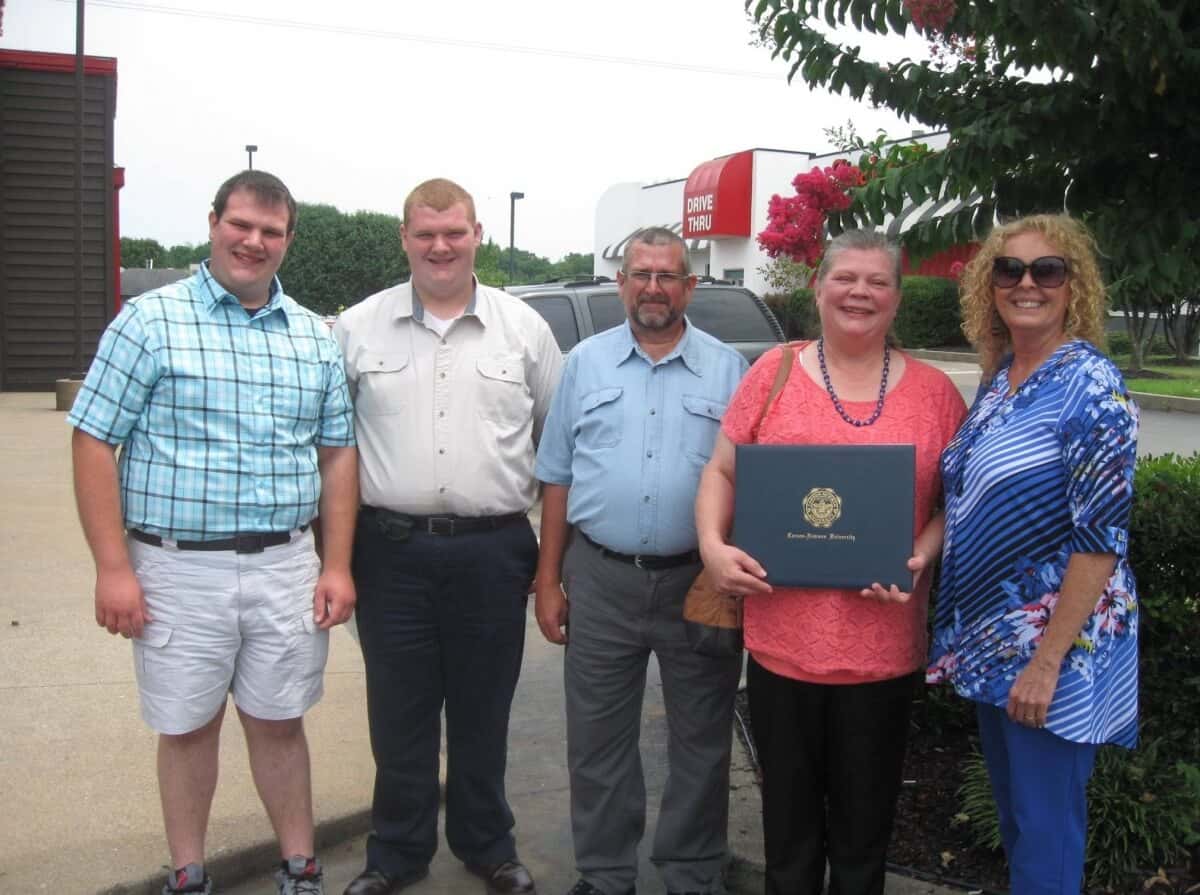 The faculty member that stands out to me the most is Sue McBee. She will forever be my mentor. She would send me emails offering encouragement and her words were so helpful that I shared them to my whole family. During a time when my family was struggling through a particularly rough time, my kid said "You know what we need now? We need an email from Sue McBee."
Did you find the faculty to be accessible?
Yes, the faculty were always available to me for questions. We communicated via email and text message and most of the time they would respond within hours if not minutes. Even on the weekends, I could get an answer quickly.
How did C-N help to prepare you for a nursing career in the 21st century?
The BSN teaches you to expand professionally and to embrace the nursing profession. The healthcare industry is facing a lot of challenges and is changing quickly and nurses are right on the front line.
How have you developed professionally since starting the C-N RN-BSN program?
The BSN program really helped me to develop research skills. I'm now able to dissect any nursing research I come across and decipher what information is good and what is not. The BSN program gave me a deeper view of nursing practice and what nurses do. There's nothing wrong with being an ADN nurse - they have great bedside skills. The BSN however, prepares you for the professional aspect of nursing. As you get into the deeper learning aspects of the BSN, you realize just how valuable research studies can be, and can better appreciate how much effort and cross-discipline collaboration that went into developing them.
What are your career plans after graduation?    
Ultimately my goal is to be a Family Nurse Practioner. I'm currently enrolled in an MSN program, and feel the C-N RN to BSN degree program provided a great educational foundation and helped to set me up for success in the program and in my career.

Started the RN-BSN program in 2014, Graduated in December 2016
Why did you choose to a career in Nursing?
I had been a paramedic and enjoyed the higher level of training the nurses got, and the more technical work available to nurses.
What makes a great nurse in the field?
It takes compassion, and a combo of critical thought and solid training. You can have compassion and education but if you're not critically sound you're not helping anyone. A good nurse is compassionate, well-trained and has critical thinking. 
What was your opinion about online learning prior to you applying to the program and how has your opinion changed since starting the program?
I had taken prerequisites for my associate's in nursing online and it gave me an idea of what I was in for in terms of online education. At first I thought online classes would be easy and that I wouldn't learn anything substantial. But I was completely wrong. The CN program was very educational and appropriate for working adults. 
When I was young I hated being in class with adult learners. Younger students just wanted to get through the class, adult learners wanted to get something out of it. Taking classes online allows you to have more interaction with the professors. And the Carson-Newman professors never rushed through the material or rushed you through classes. 
What factors influenced your decision to earn your BSN degree online?
At first I doubted what a BSN would it do what for me, but the hospital I worked for required it. It's a magnet facility and they made me sign a piece of paper that said that I would earn a BSN – and they supported me during the program and helped me pay to for it. 
Did you experience any barriers to learning online during your time as a student in the C-N Online RN-BSN program?
No, I didn't have any problems. I was able to work full-time while in the program. Carson-Newman gave me credits for my previous education as well as my professional experience. It was clear that they were genuinely interested in advancing my education, not just getting more money from me. 
As an RN, why was it important for you to earn a BSN degree?
I doubt I would have received a BSN if I didn't need it for work (a Magnet facility).  I always thought ADN nurses were better bedside and BSNs were more upwardly mobile. Now I have a deeper understanding of the upper-level thought process. When organizing your thoughts on how to approach patients – the BSN takes it to another level. An ASN just introduces you to issues in nursing– the BSN takes over from there. The BSN consists of deeper level classes with regards to individual patients or patient groups. As part of the Clinical Practicum, I got the opportunity to participate in a Homeless Community Foot Washing Program. After we washed and inspected their feet, we gave them new shoes, which was very important to them as they were living in the street. We also supported inner city programs by providing food, clothing, and worship services. It was a phenomenal experience. As a BSN, you see a more complete patient and you are a more complete nurse. 
Why did you decide to earn your BSN from C-N?
Carson-Newman's RN-BSN was by far the most economical program and the one most willing to work with my work schedule, plus the number of credits awarded for previous experience. Carson-Newman is a reputable and well-respected school. To have a C-N degree on your resume helps you in the interview process. 
What has been your experience as an online BSN student at C-N?
The pace of the classes was appropriate for someone working full-time. There were some busy times but overall, I found the work load to be very manageable. With online classes, you can plan ahead and pace yourself. I was able to carve out enough time for my coursework, ahead of time. 
When I started in college I didn't do well in correspondence courses – but it was not the same thing in the C-N program. At Carson-Newman, you may be working by yourself but you are not alone.
How many hours a week are you dedicating to your studies? 
About 8-10 hours a week.
Has your investment in the program been worth it? 
Yes, very much so.
What advice do you have for potential students interested in the program?
If you take your job as a nurse seriously, you want to be the best you can be - for yourself, your career and your patients - you need a BSN. C-N was one of the few schools I finished that didn't leave a bitter taste in my mouth. I didn't feel rushed to get through anything and I never felt nickel and dimed. Carson-Newman means quality education led by quality staff. 
What was your experience with the clinical practicum component of the curriculum?
I had experience working as a medic as well as a nurse, and Carson-Newman took that into consideration. I did not have to take duplicate courses. One area I did not have enough experience in was Community Health, so I had to take it.   
We set up a Health Fair and conducted health screenings at my church. We conducted screenings for things like hypertension, dementia, fall risks, etc. and provided print outs of the findings so they could follow up with their health care providers regarding the results.
How have you been able to integrate some of the core classroom learnings and clinical practicum experience into your current job?
I work in a Cardiac Cath lab now. All of my patients are older. The Geriatrics class helped me really understand this population – which is more than 50% of my patients. Now I'm a lot more careful with the types of drugs they receive. Also, I now serve as the STEMI coordinator at my job.  This class helped to prepare me for this type of nursing leadership role. 
What is your experience with the faculty support? 
The RN-BSN faculty were very supportive and responsive. They would always get back to you in a timely manner.  The professors actually want to meet you if they can. I live near the campus and there were a couple of hands-on experiences the faculty support me with that went way above and beyond what was expected.    
Which faculty member stands out the most?
I'm very pleased with all of faculty in the program, but Sue McBee stands out the most, mainly because I know her outside of work. A lot of this program is staked on her reputation. During the difficult community efforts that she lead, she was there with the students – in the inner city, on the street – day in day out – she was there. 
How have you been able to connect and engage with your cohort and classmates since starting the program?  
I got to know a few students in my cohort after meeting them in cyber space and I got to meet a few campus students as well. Plus, I got to know another student who's uncle happened to be a friend of mine.  Overall, there was more interaction with my cohort than I thought there would be.
How did C-N help to prepare you for a nursing career in the 21st century?
There was no current topic in nursing that the professors were unaware of. They could easily get lost in academia but they don't – they still have their finger on the pulse of what their students was are discussing. 
How have you developed professionally since starting the C-N RN-BSN program? 
Our magnet facility has a Quest program with different goals (Evidence-Based Practice, etc.) and a substantial annual bonus upon completion – it really feels like it's a continuation of what I did at C-N.
What are your career plans after graduation?
I still want to be a bedside nurse. I wouldn't mind managing bedside nurses but I don't want to become a Nurse Manager or earn an MSN even though my hospital will pay for it. In general, I feel "Nursing" is pushing nurses into master's degrees where they graduate with a prescription pad in hand and little to no bedside experience. I think "Nursing" is killing the bedside nurse.