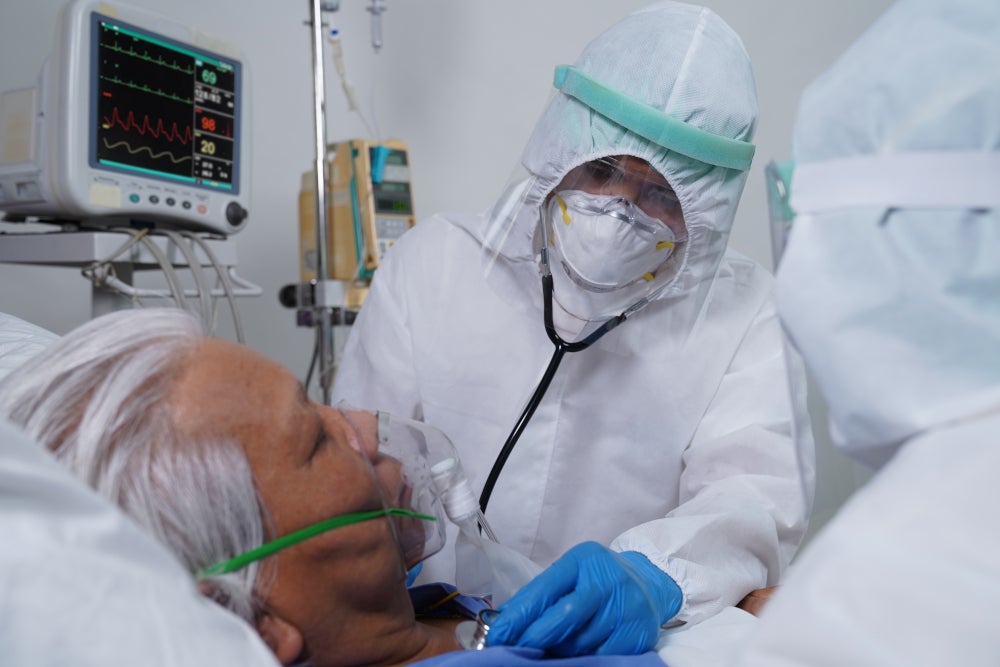 Saying the COVID-19 pandemic flipped the healthcare world upside down is a severe understatement. There were many challenges for nurses during COVID, stemming from issues such as supply shortages, isolation, and the grief surrounding patient deaths.
While there were frequent setbacks, there were still many moments of hope. These encouraging frontline nurses' stories are the experiences that made it possible for these health care heroes to keep moving forward day after day.
Nurses' Stories
Christina is an oncology nurse who had to quickly transition to working in a COVID intensive care unit (ICU). "During the COVID-19 pandemic, my role and responsibilities quickly shifted from caring for only adult oncology patients to medical patients to ICU patients on ventilators. The challenges of learning how to care for these patients also provided an opportunity to experience a type of nursing I probably would have never experienced otherwise."
Not only was the transition in the unit difficult, but she points out her role as a nurse changed too. "You wanted to be a good nurse, and you wanted to take the time to really wash your patient's matted hair, but you also counted the hours the N95 had already been on your face, and you started to think about retaining your own CO2, and how thirsty you were, and did you pee today? I hope I have a really good seal on my face. Will the patient even survive this?"
However, glimmers of hope helped her to continue working through the pandemic, such as encouragement from the community and learning new skills. "The kids in the neighborhood drew chalk messages of hope and thankfulness for healthcare workers. A patient graduated from the ICU and moved to the yellow side [of the hospital].... [T]hat patient who was prone four times, that patient who was extubated, then had to be re-intubated, then had to be trached and [percutaneous endoscopic gastrostomy (PEG) tubed]. He sat up in the chair and Zoomed with his grandchild while on room air."
Alaina Ross, RN, BSN
Alaina has 10 years of experience as a pre-operative and post-anesthesia care nurse. "Obviously, working on the frontline during COVID has been extremely challenging. We have stricter protocols and need to wear full PPE all day at work. Our 12-hour shifts were already tough enough, but when you add on full bunny suit and more burdensome charting tasks, it makes the days truly exhausting. I am always tired and hot during my shifts, with mask bands chafing behind my ears and my breathing being impaired.
"One day, I had a particularly sweet patient recovering from surgery, and she could sense how worn out I was. She kept apologizing for being a burden and saying how sorry she was for us. Of course, I reassured her it was no trouble, and we were just doing our jobs, but she was obviously concerned.
"So about a week after her surgery, she returned to the hospital and brought dinner for all the nurses on our floor. It was so sweet, and I was able to come down and give her a quick hug. It was just such a thoughtful thing to do and meant the world to our team. Times have been really trying, and small gestures like that have a major impact."
Maria Kindrai, RN, MSN-Carson-Newman FNP Student
Maria is a bedside nurse as well as a nursing instructor. The adaptability that she saw in her students speaks volumes about the world of nursing. "In my role as a nursing instructor, I have seen nursing students put in their full energy into helping fight the pandemic. They have answered the call to continue their learning, even when that meant that much of it needed to be done virtually. They have adapted to changing PPE requirements while out on clinical locations and have volunteered to help at many local vaccine clinics."
Additionally, "I have seen other very experienced nurses branch out their practice and help in an area that they previously had not ever done but felt a calling to help, and they answered it. I have seen nurses set their fears aside and enter COVID rooms with bravery they knew their patients needed to see.
"This is what being a nurse is all about and the reason we all say we are nurses with pride in our voices. We are honest and ethical, and we demonstrate this daily from the beginning of our practice until the end no matter where our path takes us."
Joanne Potter, RN, BSN
Joanne has more than 15 years of experience working in the neonatal intensive care unit (NICU). The difficult scenario of having a child in the NICU became unimaginably hard with the added stressors of the pandemic. "One of the positives I saw in our unit during COVID was the use of HIPAA compliant video and photos that we could send to our parents in the NICU [which was] especially useful since only one parent could be at the bedside at a time."
Tatiana is an intensive care unit (ICU) nurse who worked in the same ICU her mother was admitted to with COVID. Unfortunately, Tatiana's mother lost her battle. Showing insurmountable strength, Tatiana continued to show up and take care of other patients in that same ICU.
"What was most frustrating was losing my mom, then losing my patients, and then just seeing more patients get dumped on our unit and just thinking that the same was going to happen to them. The hardest part was just not feeling hopeful, and now that I see some people getting better, the numbers going down, I feel like maybe we can get past this or through this?
"When the pandemic started, everyone I worked with was terrified because we saw what nurses were dealing with on the east coast and internationally. We saw our medical supplies dwindling, and we were afraid for our lives. We were afraid for our patient's lives. There was a lot of arguing and being mad and blaming [each other].
"I had to take action and created this list of demands just based on what I was hearing from my colleagues. At the top of the list was asking for PPE and demanding that [the hospital] help make sure that we are safe so that we can fight and help our community. The idea came from frustration and wanting to do something, and not wanting to argue. Just wanting to take a step towards a solution and just making sure our demands were heard.
"Instead of being upset that we don't have what we think we need or that we anticipate a decline in supplies. Or we really wish we could shower before we go home. Simple things that they may not be aware of. I thought I could at least bring it to their attention. It was sent to the [chief nursing officer] CNO, who responded, and within a week, some of those demands were met.
Anonymous PICU nurse from Incredible Health, RN, BSN
"The COVID-19 pandemic was life-changing for everyone in the country. Talking with friends and family who were not in the healthcare industry, I was able to see how lucky I was to still be able to go to work and have real interactions with real people. As humans, we need a certain amount of social interaction or know that it's possible.
"As much as my life changed in the PICU, it also stayed the same. I still went to work. I still saw the same people, just under different circumstances. Having the ability to go through a pandemic as a unit has been really helpful in a lot of ways.
Moving Forward
The COVID-19 pandemic has changed the face of health care as a whole and created unprecedented challenges that elicited a roller coaster of emotions for nurses. While many nurses stay committed to bedside care, many nurses have felt called to a complete change of scenery. For nurses who wish to take further action against COVID, advanced education is empowering nurses to continue to care for patients and be a part of the solution to our current healthcare crisis, the growing need for advanced care providers.
Carson-Newman Helps Nurses Prepare For Future Challenges With Online MSN-FNP Degrees and Post-Master's FNP Certificates
There have been many challenges for nurses over the past year, but it has also been a rewarding experience for those who have pursued careers as family nurse practitioners. Through online MSN-FNP programs, more and more nurses are finding the time and the flexible modality to pursue an MSN-FNP degree while balancing work-life balance as full-time RN's.
Carson-Newman's MSN-FNP courses are 100% online (excluding clinicals and 3-day on-campus residency), with an intimate virtual learning environment that connects students with supportive faculty, advisors, and fellow RNs from across the country.
Learn more about Carson-Newman's online MSN-FNP program or Post-Master's FNP Certificate program, or email our team at admissions@onlinenursing.cn.edu.