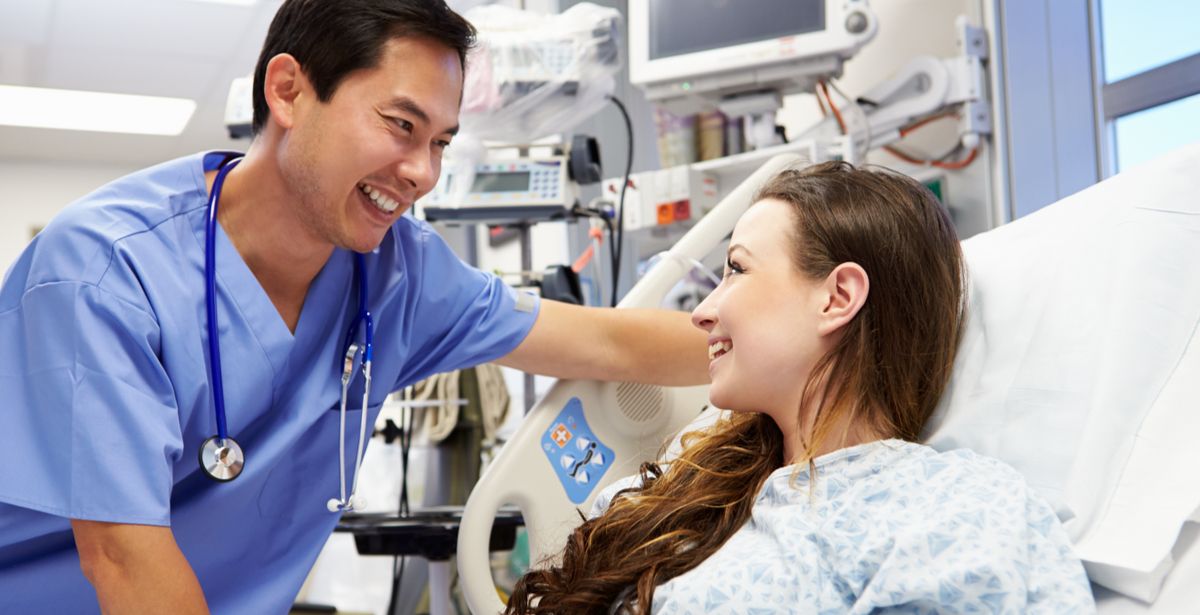 Learn more about Carson-Newman's online BSN to FNP program.
While women have been entering male-dominated fields for decades, it's far less common for a predominantly female occupation to have a substantial increase in its share of men. There is a marked gender imbalance in the nursing profession with females dominating the workforce. Although the number of men joining the nursing profession has increased over the last four decades, male nurses remain a minority. The looming nursing shortage has increased recruiting and occupational retraining efforts to increase the pool of employable nurses.
Nursing offers men a stable, rewarding career option. Opportunities abound for nurses looking to broaden their horizons with Carson-Newman's online MSN-FNP program.
History of Men in Nursing
Nursing care was predominantly provided by men well into the nineteenth century. There was an early association between nursing and religious orders and the military. This trended downward for approximately a century following the Civil War. Florence Nightingale, a pioneer of modern nursing, believed the organization and supervision of nursing care should be taken out of the hands of men. Nightingale established institutions that targeted training upper- and middle-class women to be nurses. Men were barred from admission to most nursing schools and prohibited from serving as nurses in the U.S. Armed Forces. This contributed to the invisibility of male nurses with the lowest shares of men reporting nursing as their occupation in 1930.
Severe nurse shortages during and after World War II motivated reforms that increased opportunities for professional nurses in the U.S., but these continued to target women. Decades of legal barriers kept men out of the field and nursing schools often refused to admit male students. Federal legislation lifted the ban on men joining the Army and Navy Nurse Corps in 1955. However, by 1960 only 40% of nursing programs accepted men, who accounted for 1% of all nursing students. In 1982, a case was brought to the U.S. Supreme Court by a licensed male nurse. The court's decision prohibited publicly funded institutions from denying admission to men on the basis of gender alone.
Nursing Demographics
Since 1960, increasing numbers of American men have entered the field of nursing. The share of nurses who are male has risen from 2.2% in 1960 and 2.7% in 1970 to 11.9% in 2013 and 13% in 2015. The employment profile of male nurses differs from that of their female counterpart. Approximately 76% of men work in hospitals, compared with 61% of women, and pronounced differences exist in some job titles. Men's representation is highest among nurse anesthetists where they constitute 41.1% of these professionals. The Henry J. Kaiser Family Foundation reviewed data of currently professionally active nurse practitioners and found that 8% are male.
The American Association of Colleges of Nursing reported that more than 11% of students in BSN programs in the 2010-2011 school year were male. Men tend to opt for accelerated degree nursing programs and a disproportionate number are second-degree nursing students.
Research by Yi and Keogh found that both genders have a history of "opting-in" to nursing after a few years of labor market experience. Slow growth in the male nurse sector can be attributed to their higher attrition rates from nursing. According to the National League for Nursing, in 2011, men made up 15% of enrollments to nursing programs, 8% more than are found in the current workforce.
Why Men Are Choosing Nursing
Men are motivated to choose careers in nursing for a variety of factors. Evidence suggests that men seek different careers during times of economic recession, and a growing number of men are embracing new fields in order to work and support their families. The number of jobs in health care and social assistance has increased by 38% since 2000 and nurses' wages have steadily increased since 1980.
Men who have friends or relatives who are nurses are more apt to consider this as a viable career option. There have been calls to encourage young workers, especially men, to move into high growth occupations that require some post-secondary training, but less than a four-year degree. Men employed as professional nurses have identified job security, job opportunity and high salary as external motivators. They have reported personal fulfillment and satisfaction, self-validation, a sense of altruism and caring, and the perception of nursing as a vocation as being intrinsically motivating factors guiding their career choice.
Barriers Facing Men in Nursing
Even with the strides made in recruiting men into the nursing profession, stigma against them still exists. Men may be deterred from entering the profession because of the stereotypical image of nursing work as "female work." This belief may be particularly strong in parts of the country with more traditional gender roles. William T. Lecher, RN, MS, MBA, president of the American Assembly for Men in Nursing, reports "Men in nursing are often presumed to be physicians or asked why they opted against medical school "as if it is not appropriate or socially OK to have chosen nursing."
Another deterrent may be a lack of male role models and mentors in nursing schools and health care organizations. For men who haven't considered nursing as a career because of a lack of exposure to positive role models, the image of nursing as feminine may be inherently damaging. The predominant societal view is that male nurses are unusual or strange. By providing male role models and supervisors during clinical practice experiences, nursing schools can help to dispel some of the stereotypes associated with nursing. Yi and Keogh found that early exposure to nursing and other health care professionals was influential in male nurses' decision to consider nursing as a career.
The Future of Men in Nursing
Organizations are working towards having nursing recognized as a legitimate career choice for men. The Robert Wood Johnson Foundation launched the Future of Nursing: Campaign for Action, a multifaceted campaign aimed at implementing the Institute of Medicine recommendations to diversify the nurse workforce. The foundation also supports programs such as New Careers in Nursing, which has granted 38% of its scholarships to men.
The American Assembly of Men in Nursing launched a recruitment initiative to encourage more men to enter nursing school. This initiative awards scholarships to male nursing students, recognizes excellent nursing schools for men, and has created an advertising campaign designed to appeal to men. Increasing the number of men entering the nursing profession will provide great benefit in terms of achieving diversification of the workforce. The nursing occupation is still far from gender-balanced, but men have gone from rarities in the nursing field to having a significant, if minority, presence.
Sources:
Henry J. Kaiser Family Foundation (2018, March). Total number of nurse practitioners, by gender [State Health Facts]. Retrieved from https://www.kff.org/other/state-indicator/total-number-of-nurse-practitioners-by-gender/?dataView=1¤tTimeframe=0&sortModel=%7B%22colId%22:%22Location%22,%22sort%22:%22asc%22%7D.
Miller, C. C., and Fremson, R. (2018, January 2018). 'Forget about the stigma': Male nurses explain why nursing is a job of the future for men. Retrieved from the New York Times website at https://www.nytimes.com/interactive/2018/01/04/upshot/male-nurses.html.
Munnich, E., and Wozniak, A. (2017, October). What explains the rising share of U.S. men in registered nursing? Retrieved from the Washington Center for Equitable Growth website at http://cdn.equitablegrowth.org/wp-content/uploads/2017/10/03110035/10032017-WP-rising-share-men-nursing.pdf.
Robert Wood Johnson Foundation (2011, September 28). Male nurses break through barriers to diversify profession. Retrieved from https://www.rwjf.org/en/library/articles-and-news/2011/09/male-nurses-break-through-barriers-to-diversify-profession.html.
Semuels, A. (2017, May 15). The men who take 'women's' jobs. Retrieved from the Atlantic website at https://www.theatlantic.com/business/archive/2017/05/men-in-nursing/526623/.
Stokowski, L. A. (2012, August 16). Just call us nurses: Men in nursing. Retrieved from the Medscape website at https://www.medscape.com/viewarticle/768914 United States Census Bureau (2013, February). Men in nursing occupations: American Community Survey Highlight Report. Retrieved from https://www.census.gov/content/dam/Census/library/working-papers/2013/acs/2013_Landivar_02.pdf.
Yi, M., and Keogh, B. (2016) What motivates men to choose nursing as a profession? A systematic review of qualitative studies. Contemporary Nurse, 52(1), 95-105. Retrieved from https://www.tandfonline.com/action/showCitFormats?doi=10.1080%2F10376178.2016.1192952.