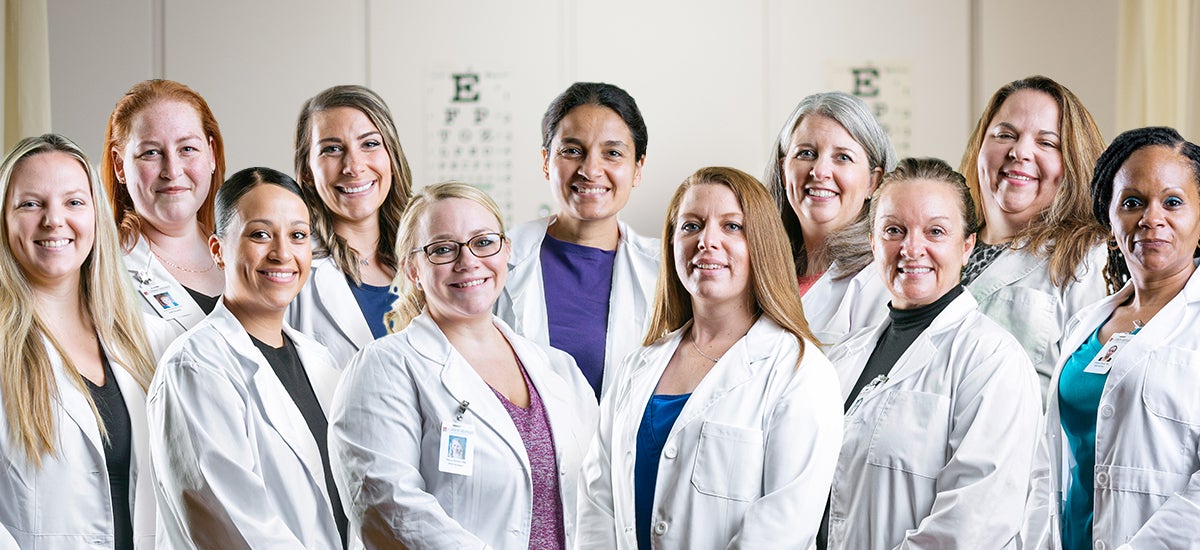 There are a growing number of Master's of Science in Nursing family nurse practitioner (MSN-FNP) programs in the US, ranging from private to public schools and on-campus to online. Online programs are becoming a popular option for working nurses who want the flexibility to return to a graduate level program that works around their schedule. 
The need for primary care providers is growing, and many RNs are training to meet that need. Returning to school allows for career advancement and the possibility of fulfilling lifelong aspirations of becoming a nurse practitioner (NP). RN to MSN programs have doubled in the last 25 years as the number of nurses applying for graduate programs has steadily increased. 
Carson-Newman University, a Christian university known for nursing excellence, prioritizes a close, faith-based, holistic educational environment. It leverages every opportunity to make educational advancement accessible to today's nurses, and offers high-quality, affordable online nurse practitioner programs that support busy nurses from registration to graduation.
Carson-Newman Offers Affordable Online MSN Programs
Program Length, Credits, Tuition and Features
Carson-Newman's online MSN-FNP program is designed for RNs who have not completed their MSN. For those who have an MSN, there is a post-master's FNP certificate track. Both programs offer nurses the flexibility to organize coursework around their busy schedules without mandatory login times. The program length, credit hours, and tuition for each track are listed below:
MSN-FNP
Program Length: 32 months
Credit Hours: 46 
Tuition: $29,900
Cost per credit hour: $650
PMC-FNP
Program Length: 23 months
Credit Hours: 32 
Tuition: $20,864 
Cost per credit hour: $650 
Why Carson-Newman Makes Economic Sense
Carson-Newman's affordable online nurse practitioner program makes sense for working nurses balancing their education with family obligations, time constraints, or limited budgets. We offer a private school education at a public school price, which is valuable because it means: 
High academic standards
Small class sizes
Peer support and networking
Attentive faculty
Value-added services, including clinical placement services and individualized support from a dedicated student success advisor
"I felt like [at] Carson-Newman, you're at a private school getting a private education at the cost of what a state school is. And I knew the class sizes would be smaller, the groups would be smaller, which I feel like our small group here this [residency] weekend has been fantastic. And, I don't feel, I know it's a quality education."
-Kristy Fleming MSN-FNP Student
Be sure to listen to Kristen Fleming's full Carson-Newman success story:
Credit Hours
As a leader in advanced nursing education, Carson-Newman understands the value of time for busy nurses. While the average FNP program takes 44-51 credit hours, the FNP program at Carson-Newman can be completed in 46 credit hours. 
Cost Savings
The average cost of an online NP program is $52,200, with the most expensive school costing around $75,000 to complete the program. Carson-Newman offers one of the most competitive tuition rates at $29,900 for the MSN-FNP and $20,864 for the PMC-FNP program.
Carson-Newman students save up to $200 per credit hour compared to the average of nationwide competitors. This is a savings of $9,200 for MSN-FNP students and $6,400 for PMC-FNP students. 
Comparison of Online MSN-FNP Programs*
| | | |
| --- | --- | --- |
| School | Cost per credit | Cost of tuition |
| Carson-Newman | $650 | $29,900 |
| Walden | $715 | $39,160 |
| University of Tennessee | $700 (in-state) | $46,900 |
| Texas Christian University | $806 | $60,500 |
| Drexel University | $1,026 | $57,456 |
| Vanderbilt | $1,716 | $68,640 |
| Rush University | $1,224 | $75,888 |
*Based on publicly displayed information on university websites, as of September 2021
"Choosing Carson-Newman, I researched other schools, even online schools, and I found the tuition was more reasonable. I feel like with smaller class sizes, the instructor is able to help you more along the way. I appreciate that it's a Christian university. It makes me think about morals and values." Christy O'Connell MSN-FNP Student
How to Afford an Advanced Degree as a Working Nurse 
In addition to the affordable, low tuition rates offered at Carson-Newman, there are other ways for nurses to reduce the costs of higher education, including loans, grants, scholarships, tuition reimbursement and transfer credits. 
Financial Aid - FAFSA Details
The first stop when seeking college-based financial aid is the Federal Student Aid Department, an office of the U.S. Department of Education. Their Free Application for Federal Student Aid, or FAFSA, is a streamlined process that determines eligibility for loans, grants, scholarships, and loan forgiveness programs. 
Financial Aid Resources 
Nursing has been identified as an area of critical need in the U.S. This shortage has led to an increase in organizations, associations, and programs available to assist nurses in pursuing higher education including the following programs:
Nurse Corps Loan Repayment Program
The Nurse Corps Loan Repayment program assists NPs working at critical shortage facilities or nurse faculty employed at accredited nursing schools.
NPs receive up to 60% of their qualifying student loans in exchange for a 2-year service commitment.
Nursing Student Loan Program 
Graduate Assistance in Areas of National Need (GAANN) 
The U.S. Department of Education Graduate Assistance in Areas of National Need (GAANN) program offers fellowships for graduate students with excellent academic records who demonstrate financial need.
Nursing Associations 
Scholarships
While not an extensive list, the following nursing scholarships will give you some idea of what is available for NP students.
State-Based Funding
The Rural Health Information Hub (RHIhub) is a great place to search for funding in your state. The following are examples of programs found on the RHIhub site for Tennessee NPs:
Multiple states have similar programs to help underserved rural populations, including: 
Veteran and Military Benefits
The U.S. Department of Veteran Affairs (VA) offers education benefits to eligible service members, veterans and dependents. The Army Nurse Corps Association's Scholarship Program is an example; however, various educational benefits are available for each branch of service.
The VA developed the following guide, which is the first in a three-part series. It provides extensive information about veteran and military education benefits, such as:
The GI Bill
The Montgomery Bill
Veterans' education assistance program (VEAP)
Tuition assistance
Grants and scholarships
Transfer Credits
When applying for an NP program, ask if you qualify for transfer credits from other educational, military, or work experience. This helps lower both your costs and your time to complete your NP degree. 
Employer Tuition Reimbursement and Scholarships
Many employers invest in their nurses by offering scholarships or paying all or part of their tuition. Check with your employer's human resources department about tuition reimbursement and the post-degree work time commitment. 
Spread the Cost Over Two to Three Years
Find a low-tuition online program, such as the MSN-FNP program or post-master's FNP certificate program at Carson-Newman, that allows you to take just one to two classes per semester. The tuition can be spread over two to three years, which reduces the overall cost per month. 
Carson-Newman Offers Exceptional Value 
When seeking career advancement, don't just look for the cheapest online MSN programs or cheapest nurse practitioner programs available; rather, look for programs that offer exceptional value for the price. Not only does Carson-Newman offer low-cost, affordable tuition for aspiring NPs, it also provides a high-quality evidence-based program in a supportive, student-centric and faith-based environment. These online programs were created to provide exceptional value and convenience through additional features and benefits such as: 
Stress-free Clinical Placement Services 
Being responsible to find your own site and preceptor for clinical rotations can be an added stressor for students. At Carson-Newman, we are proud to support our NP students with dedicated clinical placement specialists and support services to enhance your hands-on learning.
Miranda Kerley, an online MSN-FNP student, found the clinical placement services an essential resource in her progress towards becoming an NP. 
"I actually started [another MSN-FNP] program a couple of years ago, but I stopped because I couldn't find anywhere to do clinicals. Finding clinical placements is super, super hard. You could wait six months before you can actually get in somewhere, so it really slows down your progress. So when I saw that Carson-Newman was willing to find placement for me, I jumped on board very quickly." 
Highly-Experienced and Attentive Faculty 
Our highly experienced faculty and educators are active NPs in their communities. They bring valuable knowledge with years of real-work experience to the virtual classroom.
"The faculty is always there to support you 100%. Any time I've had a question that needs to be answered or just needed some advice, they're always there. They respond really quickly if I need any help. And they've also been uplifting and very supportive and constructive with feedback."  - Ashley Leon MSN-FNP Student
Be sure to listen to Ashley Leon's full Carson-Newman success story:
Student Success Advisors
Once you are admitted to the program, you will be assigned a dedicated student success advisor who provides personalized guidance and serves as your liaison to the university. They help with enrollment, work-life balance, and any barriers you encounter to help you on your education journey from registration to graduation.
"I honestly cannot say enough positive things about the student success advisor. She has just been top-notch." 
- Mary Catherine Hefner, Online MSN-FNP Student
 
Convenient Online Coursework
Our online program is convenient and user-friendly. It gives students unmatched support and is designed for working nurses. The coursework is 100% online (except for clinical, residency, or practicum) and is extremely flexible without mandatory login times. 
 
Career Development Resources 
Career development is a beneficial resource offered by Carson-Newman to provide students with support and guidance on their educational and professional journey, including:
Writing services
Tutoring support
Job opportunities
Help with developing resumes 
Assistance drafting cover letters
Is Earning a Nurse Practitioner Degree Worthwhile? 
In addition to experiencing a high level of job satisfaction (US News & World ranks NP as the #3 best job for job satisfaction), NPs enjoy the added benefit of higher salaries. The Bureau of Labor Statistics (BLS) indicates that the average salary of an NP is $111,680 compared to $75,330 for RNs. This average increase in salary can quickly offset your MSN-FNP tuition of $29,900 or less, potentially in less than one year.
Increase in pay per year for NPs:
| | |
| --- | --- |
| Years Working as an NP | Total Increase in Pay Compared to RN Salary |
| 1 Year | $41,350 |
| 5 Years | $206,750 |
| 10 Years | $413,500 |
As an added benefit, you will be in high demand as an NP due to an anticipated job growth rate of 52% between 2019-2029. This rate is higher than all other occupations and is excellent for NP students. 
Train to be a Family Nurse Practitioner With Carson-Newman
Carson-Newman has a proud tradition of training nurse leaders who transform their communities and offer much-needed care to those without enough access to quality health care. Working nurses in our programs are provided flexibility in a supported, faith-driven learning environment and benefit from value-added services like clinical placement, attentive expert faculty, and student success advisors. 
As an FNP you will enjoy a secure future, a lifetime of job satisfaction and a higher salary. This degree will give you the ability to impact healthcare as a primary care practitioner with increased autonomy and decision-making authority for your patients.
If you are looking for a way to reduce costs outside of finding an affordable online nurse practitioner program, consider financial aid, military benefits, or tuition reimbursement. You might also consider an FNP program like Carson-Newman's, that allows you to take just one to two classes per semester. The tuition can be spread over two to three years, which reduces the cost per month. 
To take the next step in your career, read more about our MSN-FNP online program. If you already hold an MSN degree, consider our online Post-Master's FNP certificate. For information about either program, you can always contact us to get started.