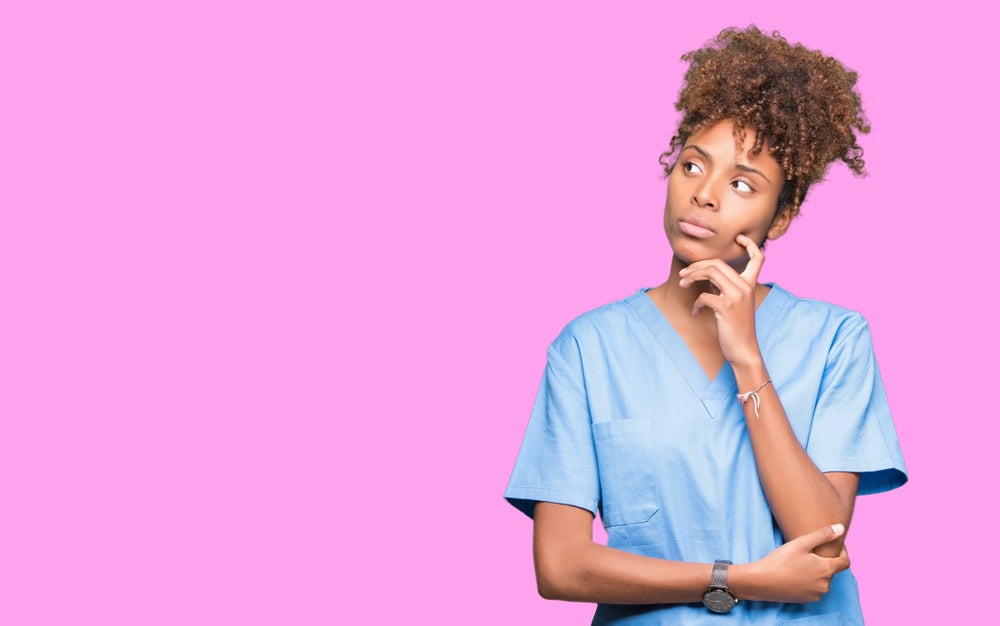 As a Registered Nurse, there are several paths you might take to advance your career. It is important to ensure your nursing career path will be personally fulfilling and a good fit for you. The purpose of this blog is to provide guidance for those considering a career as a nurse practitioner. You may be wondering, is becoming a nurse practitioner worth it?
You have choices to make regarding your nursing career path. If you currently have a BSN degree and are considering enrollment in an MSN-FNP program, or if you currently have an MSN degree and are considering enrollment to attain a Post-Master's Certificate, there are available options to help you achieve your goals. 
But, is earning your FNP worth the time and money? With so many online programs available, it can be difficult to determine if there will be a return on investment (ROI) if you choose to enroll. Let's explore some factors to consider so you can answer the question for yourself: Is becoming a nurse practitioner worth it? 
What Does a Nurse Practitioner Actually Do?
A nurse practitioner is a versatile role with varying degrees of practice autonomy according to the state in which the nurse practitioner is licensed to practice. Let's take a look at the role of a nurse practitioner, different nurse practitioner specialties, and different nurse practitioner practice areas. 
Role of the Nurse Practitioner (NP)
A nurse practitioner is an advanced practice registered nurse with the skills and scope of practice to diagnose and treat both common and complex health care problems. Nurse practitioners provide high quality care to patients of all ages and their families. NPs are specifically trained to:
Complete a thorough or problem-focused health care assessment
Interview patients with open-ended questions to obtain subjective information
Physically assess patients from head to toe for signs of illness and disease
Order and interpret laboratory tests and diagnostic imaging
Differentiate health care problems to determine a diagnosis
Formulate a plan of care including the prescription of pharmacologic therapies
Evaluate the plan of care with routine follow up and referral to specialists as indicated
NP Specialties and Practice Areas
Using the skills outlined above, NPs often have a specialty area of practice. Family NPs and RNs may work in a variety of practice areas, but the FNP role is more autonomous. The RN is responsible for monitoring patient status and implementing orders, and the NP role builds on this with additional responsibility for the overall health care plan of the patient and family. 
RN vs. NP at a Glance
As you consider advancing your education, let's take a quick look at a snapshot of the RN role vs. the NP role at a glance.
RNs and NPs both complete thorough interviews and physical assessments on patients
The NP orders laboratory tests and diagnostic imaging while the RN does not
The RN in a hospital setting provides more continuous patient care and monitoring throughout each day, while an NP visits intermittently to plan and evaluate treatment
The NP makes diagnoses and prescribes pharmacologic and nonpharmacologic treatments while the RN often administers and carries out the NP or doctor's orders
RNs and NPs are both RNs; the NP is further trained in advanced practice nursing
The NP role has greater practice autonomy than the RN role
The NP role may be able to maintain more regular work hours without providing around the clock bedside care to patients and families
Seeing these comparisons may help you decide if pursuing a career as a nurse practitioner is worthwhile. 
Recent Trends in the Nursing Career Path
In response to the covid pandemic, there are distinct trends that are expected to happen in the career paths of nurses:
Some nurses are choosing to transition into nurse faculty positions
Nurses are working in in-person positions as well as virtual or remote positions
A growing number of nurses are choosing to advance their preparation and practice
Nurses are retiring later in their careers
Becoming a Family Nurse Practitioner is a choice that has helped restore job satisfaction for many nurses. So, should you pursue advanced education in a Master of Science in Nursing - Family Nurse Practitioner program? You may want to pursue this degree but have concerns that it will be impossible to fit an in-person educational program into your life while managing your existing responsibilities. 
Online education is an alluring option when considering the busyness of life. If online education is your preference but you find yourself wondering whether online programs lead to high-quality care, let's take a look at some reasons why online education from an accredited institution can be just as effective as an in-person program. 
Characteristics of Online Education for Nurse Practitioners
Nurse practitioner education includes both didactic (classroom) experiences and field (clinical) experiences. It is a common misconception that online programs for nurse practitioners do not include in-person clinical experiences when in fact, they do. It is possible and common for nurse practitioner programs to have a hybrid format where content and concepts are learned remotely (online) while an in-person clinical component allows the student nurse practitioner to apply their learning in the field or practice setting.
Accredited online programs can be just as effective as in-person programs for the following reasons:
Online programs include in-person clinical experiences
In-person clinical experiences are accessible for students because they are often conducted in the student's geographical area (even when the school is not located in the student's geographical area)
Technologies for real-time communication are increasingly incorporated into online educational experiences such as live chat and video conferencing
Faculty of online programs collaborate with preceptors to facilitate successful clinical education and remediation of student learning when needed
Both online and in-person programs have a variety of effective strategies that are innovative and evidence-based for achieving the desired learning outcomes 
With these points in mind, it's important to make sure you take the time to do your research when comparing programs.
How To Choose a Quality Online Program
It may seem obvious, but a quality online program is a program that will produce quality nurse practitioners who are equipped to improve patient outcomes. Qualities of a successful nurse practitioner include:
The ability to assess and diagnose health conditions to treat patients across the lifespan
The confidence to think independently and apply evidence-based guidelines in practice
The heart to communicate with empathy, active listening, and compassion
The willingness to strengthen both leadership and entrepreneurial skills
The decision to stay current with research and best practices
To help you make this decision, we will explore several of the factors you might consider when choosing an online program - starting with the faculty.
Faculty
Quality programs publicly display the qualifications and experience of their faculty in the form of faculty profiles that you can review. It is exciting to review the showcase of both individual expertise and collective scholarship of those who are the primary educators who would be some of your mentors in an online program. It is encouraged to review the faculty profiles to gain confidence in the quality of the educators in an online program.
Online Experience
Many quality programs are candid and provide you information on what to expect in their online experience. You might attend a virtual open house or webinar and have the opportunity for a question and answer session with faculty or staff about the program curriculum and format. You also may receive information about course delivery via their preferred learning management system. Engaging in a review of the online experience can give you insight into a quality program before making your decision to apply.
Residency Experience
Online programs with in-person clinical experiences may also have a short on-site experience, sometimes called a residency experience, where you may learn advanced nursing assessment and other nursing skills from faculty prior to entering the clinical setting. Don't be discouraged or discount the value of a short in-person time required in an online program. This residency experience is often the highlight of the program for students and a fun chance to network with classmates and faculty while gaining confidence. A short but intensive hands-on training experience with a clinical checkoff is a great way to ensure you are prepared for practice.
Accreditation and Testimonials
A quality nurse practitioner program is one that is accredited and often has positive testimonials from current and prior students. What better way to evaluate an online program than to hear from students who have experienced the program for themselves? Accreditation is extremely important because this is proof that the program has been evaluated to meet standards for quality education and there is commitment to maintain these high standards. 
ROI: Potential Salary vs. Cost of Program
The return on investment for a nurse practitioner program can be determined by comparing the potential salary available with an advanced education alongside the cost of the program. Tuition costs and salary expectations vary from school to school and from state to state. This is often an exciting area to consider and information is available that can help you estimate the return on your investment. 
Benefits of Becoming a Nurse Practitioner
Across the U.S., nurse practitioners continue to be in demand to serve the health care needs of the country in a variety of practice settings and specialty areas. There are resources available to help you calculate the potential salary depending on your specialty choice, practice area and state of residence. Those who engage in the evaluation of the financial aspect of becoming a nurse practitioner have concluded that it is financially worth it to advance your education and complete a nurse practitioner program. 
There are other benefits of becoming a nurse practitioner that are not about a monetary perspective at all, but about quality of life and freedom. A nurse practitioner position may allow you to become more autonomous and open your own practice.
So, what do you think? Is becoming a nurse practitioner online worth it? For many, the answer is a resounding, yes. Carson-Newman University offers both an online Master of Science in Nursing (MSN-FNP) program and a Post-Master's Certificate in the Family Nurse Practitioner specialty that may interest you. Visit the program page for more information where you can download the program guide. An admissions advisor is available and ready to help you decide whether a Carson-Newman online nurse practitioner program is right for you.