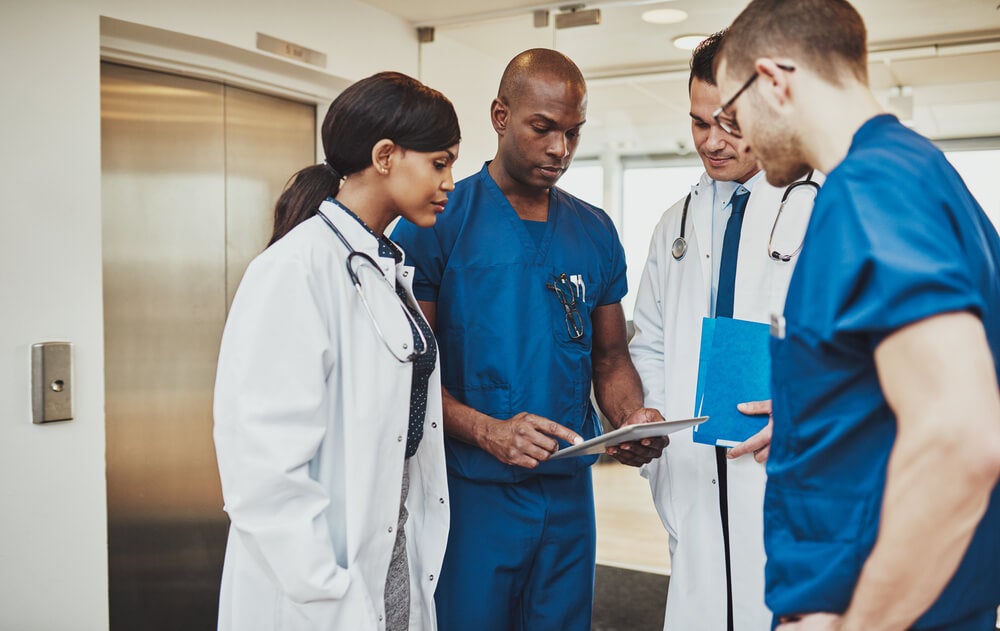 The American Nurses Association (ANA) describes nurse leaders as individuals who excel in their career, represent the interests of their profession, and work in a leadership role in a healthcare organization. Nurses are the most numerous professionals in the healthcare industry, so having nurse leaders who represent the views of nurses is essential. Nurse leaders must address nursing issues in their workplace, and partner with physicians and other healthcare professionals who design and implement healthcare policies to improve patient outcomes.
Effective Leadership in Nursing: 
Bridges the gap between policy and practice by ensuring that all team members are obeying safety requirements.
Maintains the rigorous standards of care that patients and their families rely on.
Brings out the best in each employee and motivates them to work toward achieving a shared goal. 
Increases employee engagement, encourages a positive environment, and works to remove obstacles for team members.
What Skills are Required for Effective Nurse Leadership?
The American Association of Critical Care Nurses, AACN, has studied the qualities of nurse leaders. Effective nurse leaders listen to employee feedback, demonstrate flexibility to solve problems, and safely delegate responsibilities to other team members to create a healthy work environment. Not only do nurse leaders improve the work environment, strong leadership is contagious and inspires colleagues to grow professionally and take on new leadership roles. 
Multiple studies have evaluated the key attributes of nurse leaders. Effective nurse leadership involves using personal connections and knowledge to motivate staff and to improve patient outcomes. The primary skills required for effective leadership in nursing include valuing others, team building, and conflict resolution.
Valuing others
Valuing others is an essential component of leadership in nursing. Team members need to feel valued in order to participate fully in team activities. Nurse leaders demonstrate that they value others by listening to feedback and being respectful of different cultures, beliefs, and perspectives.
Team Building
Successful team building makes stressful situations manageable. When nurses collaborate, both patient outcomes and staff satisfaction improve. However, work environments without a strong team backbone leaves nurses feeling unsupported and ill-equipped to care for patients. Nurse leaders navigate the complexities of the ever-changing healthcare market to highlight the individual strengths of team members and motivate staff to support each other and work as a team. 
Conflict Resolution
In every industry, conflict is unavoidable. Conflict resolution is crucial to nursing leadership because, in addition to the interpersonal conflicts that exist in all industries, nurse leaders must grapple with varying opinions with regard to patient care. Nurse leaders have a responsibility to resolve conflicts in order to maximize teamwork, enhance productivity, and increase patient satisfaction. Without strong conflict resolution skills, nurse leaders would be unable to develop a supportive team environment, which is fundamental to optimizing patient care. Having a cohesive health care team ultimately puts patient safety and patient satisfaction first.
 
How do Nurses Exhibit their Leadership Skills?
The constantly changing dynamics of the US healthcare market and the ever-increasing pace of improvement in patient care necessitate the need for great nurse leaders. Change can be stressful for employees and may have a negative impact on patient care. Having versatile nurse leaders who couple managerial skills with inspiration and insight helps ensure patient safety standards are met and employees are supported during tumultuous times. Effective nurse leaders exhibit their leadership skills in times of transition through excellent communication, self-confidence, and thoughtful mentorship.
Excellent Communication
Effective communication involves both excellent oral and written communication. Nurse leaders need to be able to communicate with individuals with varying educational levels, from physicians to patients with limited formal education. Their communication style must fit the circumstance and always be professional and non-judgmental.
When managing multiple staff members, communication skills are needed to ensure team alignment, resolve conflicts and to promote collaboration. The ultimate goal of conflict resolution is to ensure safe patient care and nurture a healthy team culture. Communicating effectively with all healthcare team members and patients allows this to happen.
Self-confidence
As an essential part of healthcare administration, nurses must also develop the important leadership trait of self-confidence. Team members respond favorably to leaders who are self-confident, yet compassionate and approachable. Self-confidence comes from education, experience, and the intuition that develops over time by successfully applying nursing expertise to a variety of clinical situations. Nurse leaders help staff nurses develop nursing expertise, thereby building confidence in nurses, increasing the credibility of the nursing profession, and developing a stronger clinical practice.
Thoughtful Mentorship
Thoughtful mentorship is a fundamental aspect of exhibiting nursing leadership. The profession of nursing grows by nurturing new nurse leaders to push the boundaries of nursing. Mentorship involves sharing knowledge, skills, and best practices to help other nurses grow professionally. Characteristics of a good mentor include:
Being knowledgeable and non-judgmental
Having the ability to network and find resources
Willing to devote time
An eagerness to learn

What are common leadership styles?
Successful leadership in nursing recognizes that nursing staff and patients benefit from a cohesive health care team. To maximize staff potential and to optimize patient outcomes, nurse leaders need to understand different leadership styles. Once nurse leaders have a basic understanding of leadership styles, they can take a personal inventory of how they fall into styles and assess which styles could be beneficial in different clinical situations. The American Association of Nurse Assessment Coordination (AANAC) has identified five leadership styles in nursing.
Transformational Leadership in Nursing
Transformational leadership is a management style that focuses on motivating others. Instead of providing a detailed list of tasks, transformational leaders teach people how to think critically, which ultimately leads to internal motivation and innovation. Transformational nurse leaders lead by example but are consistently available for consultation and support. 
Democratic Leadership in Nursing
Nurses leaders that rely on the democratic leadership style place an emphasis on personal relationships. These leaders encourage communication from their team and strive to make team members feel comfortable voicing concerns, opinions, and ideas. They also listen attentively to feedback and try to incorporate it into the decision-making process. 
Laissez-Faire Leadership in Nursing
Laissez-faire leadership, or "hands-off" leadership, is most often seen in new or inexperienced nurse leaders. Laissez-faire nursing leaders try to avoid micromanaging and trust that employees will come to them with questions or concerns. These leaders are not typically strong decision makers, but in environments with a high skill level among the staff it can be an effective leadership style. 
Autocratic Leadership in Nursing
In contrast to the laissez-faire leadership style, autocratic leadership focuses on decision making, often without input from staff. Nursing leaders using the autocratic leadership style make firm decisions and do not welcome feedback. This leadership has little tolerance for mistakes and is useful in emergency situations.
Servant Leadership in Nursing
Servant leadership places an emphasis on influencing and motivating others by building relationships and developing their skills. The term servant leadership refers to being motivated to serve others. Servant leadership in nursing is seen in individuals who genuinely care about each team member and try to provide the resources and tools they need to succeed.
What Makes a Good Nurse Leader?
A good nurse leader demonstrates a variety of essential qualities, including the ability to show accountability to themselves and the team as a whole. They should have the emotional intelligence to stay calm in a crisis and empathize with their team member's struggles, as well as the humility to recognize their weaknesses. The nursing leader can influence those they lead by showing integrity and following the same standards and expectations set for others. A good nurse leader will be resilient to ongoing change, see a vision for the future, and maintain an ongoing passion and dedication for excellence. 
Additionally, influential nurse leaders are involved with professional organizations to learn and share with others and advance their individual growth. Essentially, effective leadership is about inspiring people to do things they never thought they could.
Ready to become a Nurse Leader? 
For nurses who are seeking an advanced practice path, specializing as a family nurse practitioner is a strong choice with several advantages including better pay, greater autonomy, and high job security. However, finding time to pursue an MSN-FNP degree is challenging when working as a full-time RN. Carson-Newman University has a solution for working nurses with its online MSN-FNP program. 
Created specifically for working RNs, the MSN-FNP courses are 100% online (excluding clinical and practicum). The online format provides the work-life balance you need to advance your education while working full-time. The unique virtual learning environment will connect you with fellow RNs from across the country. You will also learn from seasoned FNP and DNP faculty, who enjoy sharing real-world experiences from practicing in their communities. 
Family nurse practitioners enjoy a high rate of independence and job satisfaction. An FNP is ranked as one of the top three healthcare jobs, according to 2021 data from U.S. News & World Report. This satisfaction comes from the ability to define their own practice and serve as the primary care providers for people of all ages within their own communities. Many states also grant prescriptive privileges to FNPs.
Take the next step to become a family nurse practitioner with Carson-Newman. 
Advance your MSN with a Post-Master's Program
The demand for FNP-certified nurses is growing, as many families and communities across the U.S. already rely on family nurse practitioners as their primary source of health care. 
Carson-Newman's online Post-Master's FNP Certificate Program is designed for working nurses with an MSN to help you achieve your full nursing potential. You will develop the advanced nursing expertise to thrive as an autonomous and highly skilled family nurse practitioner. In addition, by focusing on a holistic approach to nursing, you will develop the ability to influence and improve the health of individuals, families, and entire communities.
Why Choose Carson-Newman?
At Carson-Newman, a university known for nursing excellence, faith and learning are combined in evidence-based online graduate nursing programs designed to transform you into a more autonomous caregiver.
Affordable tuition. Our online FNP programs are competitively priced and with an MSN-FNP under $30,000 (and Post-Master's FNP Certificate under $21,000), can save you up to $200 per credit hour compared with nationwide competitors.
Convenient and flexible. Designed for working nurses, with 100% online coursework (not including clinical experience or the on-campus residency) and no mandatory login times.
Free and fast transcript evaluations. We evaluate your transcripts free of charge—usually within 48 hours.
Unrivaled personalized support. A dedicated Student Success Advisor provides one-on-one guidance and creates a supportive learning experience from registration to graduation day. Clinical placement services provide your placements and support your clinical experience throughout the program, so you can focus on your studies and work.
Small class sizes. Enjoy an intimate learning environment focused on meeting your needs – with personalized faculty attention and the individualized support you need to help you succeed.
To learn more, request your free program guide and schedule a brief conversation with an enrollment advisor.