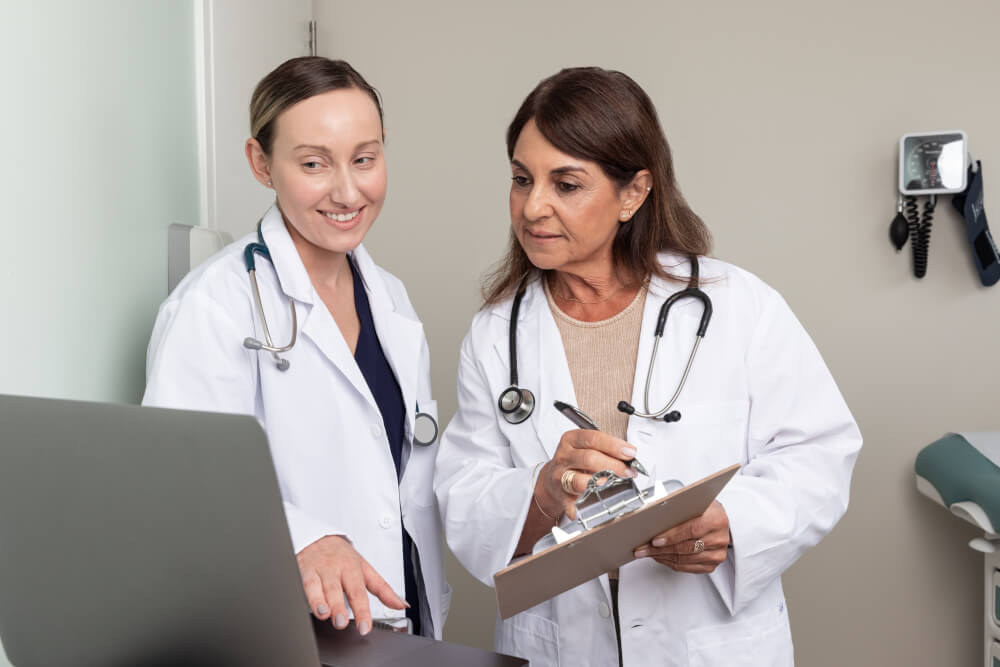 The Health Resources and Services Administration (HRSA) found that 17.5% of all registered nurses held master's degrees in 2018. Experienced nurses considering their career options may wonder, "what can I do with a master's in nursing?" A Master of Science in Nursing (MSN) opens advanced nursing career pathways and anticipates rising expectations of nursing professionals.
MSN graduates can find their way into private practice, clinical research, or public health roles. The degree is also a good platform for nurse practitioners interested in future leadership positions. Differentiating nursing degree types is a good starting point in determining what you can do with a master's in nursing.
Master's in Nursing Job Opportunities
A strong job market for nurse practitioners and the opportunity for professional growth are solid incentives for graduate study. The U.S. Bureau of Labor Statistics (BLS) projects a 46% growth in nurse practitioner jobs from 2021 to 2031. An estimated 112,700 new practitioners will be needed to fill this demand.
The time and energy spent on earning an MSN degree increase a nursing professional's opportunities to earn a higher salary. The BLS found a median salary of $120,680 for nurse practitioners in 2021. Registered nurses earned a median salary of $77,600 during the same period.
There isn't a single correct career path for nursing professionals who have earned their MSNs. Nurse practitioners often discover what they can do with a master's in nursing by following professional interests and community needs. The following master's in nursing jobs show the breadth of opportunities for MSN-educated professionals.
Primary Care Provider
Nurse practitioners are increasingly relied upon to provide primary care in private practice or as part of a medical group. The American Association of Nurse Practitioners found that 69.7% of surveyed nurse practitioners are certified for family practice. Family nurse practitioner (FNP) responsibilities include:
Ordering and evaluating diagnostic tests

Prescribing treatment, including medications and non-pharmacological therapies

Consulting with specialists and other providers for referrals

Educating patients on wellness and disease prevention
Twenty-six states and the District of Columbia authorize full-practice authority - or practice without collaborative agreements or supervision by physicians - for nurse practitioners. The remaining states allow nurse practitioners to work with physicians to provide the best possible care to patients of all ages. No matter the state's regulations, FNPs can commit to the long-term care of their patients in primary care roles.
Clinical Research Nurse Practitioner
Research institutes, pharmaceutical companies, and universities employ nurse practitioners for clinical research. Clinical trials require years of testing on volunteer subjects and patients with targeted medical conditions. This master's in nursing job includes the following duties:
Evaluating patient conditions within the contexts of clinical protocols and ethics

Documenting patient responses to experimental treatments for further research

Acting as a patient advocate throughout the clinical trial
Professionals who follow this nursing career pathway maximize the assessment and research skills learned in graduate school. Clinical research nurse practitioners continue to serve patients while advancing the next generation of treatments. Successful clinical trials bring professional satisfaction through years of positive patient outcomes.
Public Health Nurse Practitioner
The public health field seeks the prevention of disease outbreaks and unhealthy behaviors across entire communities. For example, local, state and federal health agencies conducted public health campaigns related to COVID-19 prevention and vaccination. Government agencies and community clinics also develop solutions for health disparities such as:
Economic instability

Unhealthy neighborhood and physical environments

Inadequate education

Food insecurity

Lack of healthcare access
Public health nurse practitioners design prevention and education programs based on current health trends. They collaborate with experts and organizations in advocating for additional resources to protect vulnerable populations. This nursing career pathway also involves the supervision of field staff, including nurses and researchers.
Preparation for public health nursing roles typically starts with an MSN. Registered nurses who have worked in community clinics and agencies often possess first-hand experiences with health disparities. Graduate coursework and field placements can shape these experiences into expertise in public health interventions.
Nurse Educator
Nursing teams require ongoing professional development and training to handle the changing needs of patients. Hospitals and clinics employ nurse educators to develop, implement and adapt educational and professional development programs for patient-facing workers. 
An MSN with a focus on education, strong communication skills, and a commitment to evidence-based practice opens doors to nurse educator roles. Nurse practitioners in this master's in nursing job may be responsible for:
Preparing experienced nurses to act as preceptors for nursing students

Incorporating current research and technologies into staff training

Maintaining relationships with universities and local communities

Gathering data on staff training needs and competencies
Nurse practitioners wondering what they can do with a master's in nursing may also think about their contribution to the profession. Nurse educators use their advanced education and experience to improve health outcomes through well-trained carers. Their work also spreads throughout the profession as nurses communicate best practices with their colleagues.
Nurse Leader
MSN-trained nursing professionals are well-poised for leadership positions in nursing departments and hospitals. These roles include nurse administrators and chief nursing officers who oversee the day-to-day operations of their supervisory areas. Their responsibilities may include:
Hiring, scheduling, and evaluating nursing personnel

Measuring patient needs and outcomes

Coordinating with departments and affiliated organizations for improved care

Advocating for nursing staff in conversations with directors and other leaders
Nurse practitioners possess skills like evidence-based decision-making and adaptability needed in leadership roles. They can also channel the experiences of frontline nurses as they develop budgets and strategic plans. 
Graduate education provides the communication and clinical skills necessary for nursing leadership roles. A common thread among master's in nursing jobs is the need for critical thinking in fast-paced environments. An MSN from Carson-Newman University builds all of these skills and more needed for future nursing roles.
Expand Your Nursing Career Options With Carson-Newman
Carson-Newman's Online MSN-FNP helps nurses balance their graduate studies with work schedules. This program can be completed in as little as 32 months of study. Forty-six credits of fully online courses build skills including:
Advanced Health Assessment

Advanced Primary Nursing Care for Adults

Research Methods and Design in Nursing
The Online MSN-FNP program emphasizes the importance of relationships in the nursing profession. Every MSN-FNP course is taught by a nurse educator who still practices in their community. Students build rapport with faculty members and colleagues during a three-day residency on the Carson-Newman campus.
MSN-FNP students also complete 600 clinical placement hours with the help of placement specialists. Carson-Newman's placement service identifies local opportunities for students to prepare for master's in nursing jobs. Relevant clinical experiences and virtual classroom lessons contribute to a 96% certification pass rate for graduates.
If you're ready to continue your nursing journey part-time at a competitive price, download your free Carson-Newman FNP program guide today.