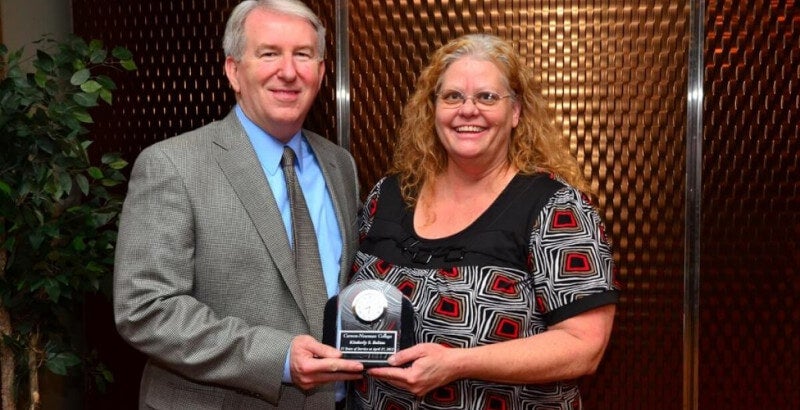 Learn more about Carson-Newman's online BSN to MSN-FNP program.
We sat down with Dr. Kimberly Bolton to talk about changes in the nursing profession and the role of the nurse as the primary care provider. As the Director of Carson-Newman's new Online Master of Science in Nursing-Family Nurse Practitioner (MSN-FNP) degree program, she talks about the latest trends in nursing, future opportunities for experienced nurses and the need to stay up to date on technology in this blog.
Associate Professor of Graduate Nursing and Director of the Online Master of Science in Nursing - Family Nurse Practitioner (MSN-FNP) Program, Dr. Kimberly Bolton, earned her BSN, MSN and PhD at the University of Tennessee, Knoxville. Dr. Bolton began teaching in the graduate nursing program at Carson-Newman in 1997. She teaches course in both the family nurse practitioner and the nurse educator track. She has been a women's health care nurse practitioner since 1991 and is certified by the National Credentialing Center as a women's health nurse practitioner. She currently practices in collaboration with an OB/GYN physician in Knoxville once a week. Her research interests include women's health and domestic violence.
Dr. Bolton lives in Knoxville with her husband and her son. She enjoys working in her garden, relaxing outdoors, and spending time with family.
Inspiration in Nursing Education
Q: How do you inspire your students? Do you have a certain approach in your teaching philosophy?  
A: I try to inspire my students through different mechanisms – humor (I use this a lot), music, stories of experiences, and my passion for nursing in general. My teaching philosophy is based on the premise that knowledge is necessary, ongoing, and that we learn new things daily.
Changes in Nursing Education
Q: Can you describe the biggest change in nursing education that you have observed in your graduate nursing teaching career over the last 21 years?
A: The biggest change has been the incorporation of technology in the classroom and in the clinical practice area.
Family Nurse Practitioners and Preventative Care
Q: How much does preventative care play in the role of the Family Nurse Practitioner?
A: Preventative care plays a huge role in health care in general. On every visit, your provider should discuss some aspect of preventative care with you – so family nurse practitioners usually spend some time each patient visit/encounter discussing preventative care. This is usually care the patient can do at home or risk factors for a particular disease process that could be reduced through exercise, decreased calorie intake, or stopping a bad habit. Patient visits just for preventative health care should occur about once a year if the patient is an adult and more frequently if the patient is a child or has some underlying health concerns.
Rewards in Nursing and Nurse Education
Q: What was/is your favorite part of nursing and nurse education?
A: My favorite part about nursing is interacting with the patients and their families and providing whatever help or education that is needed based on their situation. My favorite part about nursing education is seeing the "aha light" come on in the student's eyes when they grasp a difficult concept or finally put all of the correct pieces together.
Changes in Women's Health Care
Q: What are some of the changing factors and changing needs in women's health care?
A: Since women are living into their 80s or older, women's health care is about the total care of women throughout their lifespan. In many OB/GYN offices today women are screened for cancer, cardiovascular disease, respiratory disease, and mental health issues. Women's health is moving away from just OB care.  
Career Choices in MSN-FNP Graduates
Q: What trends are you seeing in MSN-FNP graduates' choices in where they choose to work? Are today's grads different from grads of yesteryear?
A: The majority of students that graduate from our program still go to work in primary care offices where they will have a variety of patients. However, some students will specialize in areas such as weight loss, women's health, and orthopedics. Usually in every class we have one or two students that continue to work in the hospital either in the ER or as a hospitalist.
Challenges Faced by Family Nurse Practitioners
Q: What are the top three challenges that you see Family Nurse Practitioners facing on the job? How do you think these challenges can be addressed?
A: Technology, time management, and confidence in their ability to function as a FNP. Technology will just take time – there are many different charting programs out there and it just takes time to learn the program. Most learn the program fairly quickly. Time management can be addressed by always doing things the same way with every patient. By this I mean, do your history and your physical the same way all of the time, then you will know what you can omit from both the history and the physical to fit the patient's needs. Confidence in their ability to function as an FNP – again this takes time but having a mentor at work will help as will having a three to six month orientation with the job before they are taking a full patient load. In addition, knowing what things you can manage for patients and when to refer or consult with a physician will also help FNPs build confidence.
Future Opportunities for Nurses
Q: As a Nurse Educator, what do you believe will be the biggest opportunity for nurses over the next decade?
A: I think for nurse practitioners the biggest opportunity will be related to primary care. I believe nurse practitioners will be doing more of the office visits while physicians will be doing more of the invasive procedures.  
The Powerful Influence of Mentors
Q: Did a particular experience or mentor influence you in your past life and work? Are there other influences that affect your own compassion as a nurse and educator?
A: I have been blessed to have had some wonderful people influence me and shape me over my nursing career and in my nurse educator career. So yes, I have had a person I respected and admired with each job I have had as a nurse, as a nurse practitioner, and as a nurse educator. I think compassion is present in all of us to some extent, but for me, I try to place myself in the other person's shoes and try to determine what would be the most compassionate approach in that situation.  
Innovative Forces Changing the Nursing Profession
Q: In your opinion, what is most innovative force that's positively changing nursing today?
A: Again, I am going to have to say technology and the different programs that can help you utilize resources to better help your patients such as Epocrates and UpToDate.
Family Nurse Practitioners' Role in Community Nursing
Q: Can you discuss community nursing and the Family Nurse Practitioner's role in affecting communities?
A: Community nursing deals with the health of the community in general, but in my opinion starts with the individual. The FNPs role in the community would be participating in health fairs, volunteering to provide education to groups on specific topics, helping with school clinics, and working to establish good health practices with individuals and their families.  
Faith in Nursing Education and Nursing Practice
Q: How do you incorporate faith into nursing education and your nursing practice?
A: I try to model someone who believes and interacts with God in my daily life and in my teaching. I pray with both patients and students if they desire, and I strive to treat everyone with dignity and respect.
MSN-FNP On-Campus Residency at Carson-Newman
Q: What can MSN-FNP students expect from the three-day on-campus Residency experience?
A: They can expect to have wonderful fellowship with the students in class with them and with the graduate faculty. They will have time to work with reproductive system models including testes, pelvic and pregnant as well as breast and prostate models. They will have time to practice their health assessment skills and hopefully correct any skills that need correction. They will finish the weekend by doing a one-hour assessment (history and physical) on a classmate with faculty watching.
 
Contact us to find out more about the online MSN-FNP program.