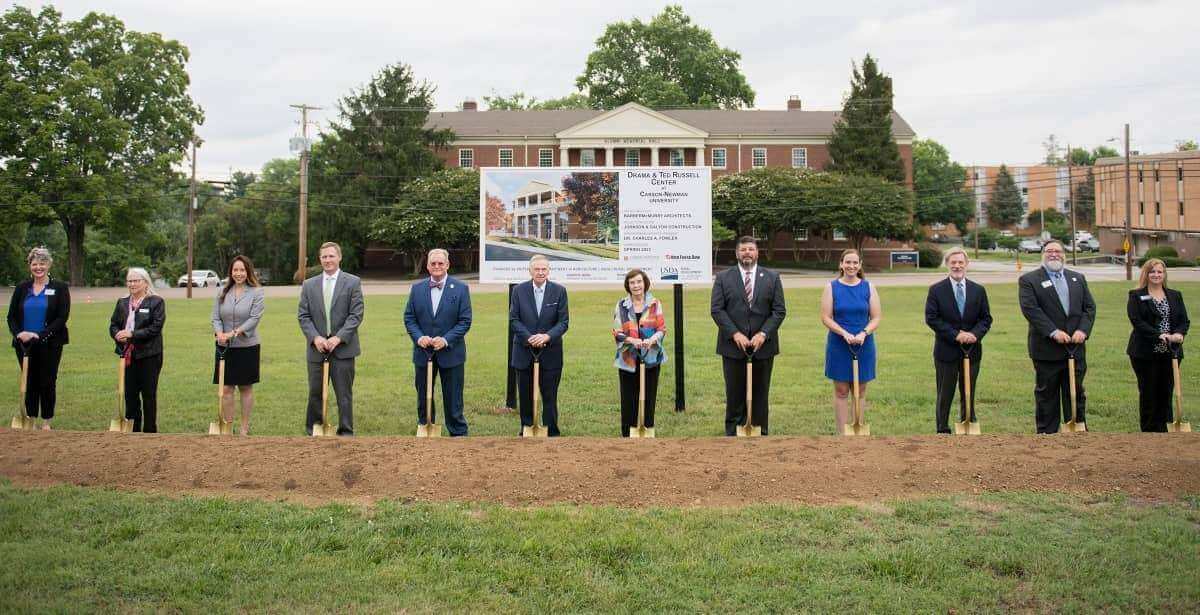 On Friday, July 9, community leaders, faculty, staff, trustees and friends gathered on Carson-Newman University's campus to celebrate the groundbreaking of the Drama and Ted Russell Center. The Center will serve as the future hub for the University's health science programs and honors Knoxville's Drama Russell and her husband Ted, a 1962 C-N alumnus and a 2010 recipient of an Honorary Doctorate of Business Administration.
"Today was a blessing and an exciting glimpse into where Carson-Newman is heading," said University President Charles A. Fowler about the day's events. "This project is a culmination of strategic planning, a deep love for our students and a shared vision of preparing the next generation of servant-leaders in healthcare. To have members of our community and healthcare industry come along side us in support today, is very affirming."
Located on North College Street and Branner Avenue, the state-of-the-art facility will consist of three levels spanning 48,000 square feet. The center will include additional classroom space, simulation labs, health assessment labs and general skills labs. To enhance the student experience, the building will also feature a food service area, multiple student lounges, collaboration areas, as well as a covered outdoor terrace. For the project planning and construction, the University is partnering with Knoxville's Barber McMurry Architects and Johnson & Galyon Construction.
The Drama and Ted Russell Center is also designed to achieve a WELL Building Standard. This standard is a performance-based system for measuring, certifying, and monitoring features of the facility that impact human health and wellbeing, through air, water, nourishment, light, fitness, comfort and mind. 
"While our mission to prepare caring and competent professionals has remained steadfast, the needs of our learners and the way healthcare is delivered is ever-changing," said Dr. Lana Spence, chair of the University's Nursing Department. "This new building will have the necessary resources to meet unique learning needs of our students and assist faculty to equip them with the tools necessary to meet challenges with both confidence and compassion."
The project's launch comes on the heels of the University announcing a new program for Doctor of Nursing Practice. Earning approval from the Southern Association of Colleges and Schools Commission on Colleges, the program begins fall of 2021.
The project is scheduled for completion in 2023. The Drama and Ted Russell Center is the first project launched as part of the University's "Acorns to Oaks" 5-year strategic plan. Approved by C-N's Board of Trustees in April, the plan consists of new academic programs, expanded athletic offerings, new and renovated facilities, enrollment growth, and greater missional alignment.