RN to Bachelor of Science in Nursing (RN to BSN) Online in Texas
RN-BSN Texas Online Program Highlights
The Carson-Newman online Bachelor of Science in Nursing (RN to BSN) degree program prepares registered nurses in Texas to become more complete and autonomous caregivers. Carson-Newman online RN to BSN students learn to employ critical thinking, evidence-based practice, advocacy, ethics and the principles of servant leadership to improve community health, patient outcomes and their nursing practice in Texas.
The online RN-BSN program prepares Texas registered nurses for the next step in their practice and allows most RNs to qualify for advancement opportunities that would otherwise be unavailable at the Associate's Degree in Nursing  level. Today the RN to BSN degree in Texas means a more prepared and engaged nursing professional who provides more than the basics of clinical care, being able to accurately assess patients, make decisions and communicate effectively. That's why many hospitals and health care providers now insist on the BSN as the minimum credential for employment or advancement.

Career Outcomes
To meet the more complex demands of today's health care environment, the National Advisory Council on Nurse Education and Practice has recommended that at least two-thirds of the basic nurse workforce hold baccalaureate or higher degrees in nursing.
All of this means that, in general, registered nurses with a Bachelor of Science degree in nursing (BSN) will have more opportunities for positions and career advancement.

Fast Facts
Licensed RNs in Texas can receive up to 30 hours of credit for knowledge gained in basic nursing program

100% online coursework (not including clinicals) allows you to earn your BSN on a schedule that works for your busy lifestyle

Program can be completed in as few as 14 months based on transfer evaluation

Accredited by Commission on Collegiate Nursing Education, Southern Association of Colleges and Schools Commission on Colleges*

#13 in Best Value Schools - U.S. News & World Report, 2017

#34 in Best Colleges for Veterans  - U.S. News & World Report, 2017

#66 in Regional Universities South - U.S. News & World Report, 2018
*The baccalaureate degree program in nursing and master's degree program in nursing at Carson-Newman University are accredited by the Commission on Collegiate Nursing Education, 655 K Street NW, Suite 750, Washington, DC 20001, 202-887-6791 (http://www.ccneaccreditation.org). 
Want More Information?

RN to BSN Requirements for Texas Residents
Carson-Newman University is a Christian liberal arts college located in Jefferson City, Tennessee. Our online Registered Nurse to Bachelor of Science in Nursing (RN to BSN) program, designed with the working RN in mind, offers a flexible way to earn your BSN on a schedule that you can tailor to accommodate your busy lifestyle. The online RN to BSN program is accredited by the Commission on Collegiate Nursing Education (CCNE) and the Southern Association of Colleges and Schools (SACS). Carson-Newman was ranked #26 in Best Value Schools (2018), #66 in Best Regional Universities South (2018) and was named as a "Great School at a Great Price" (2017) by U.S. News & World Report.
 
About Texas
By both population and area, Texas is the second largest state in the United States. Texas is located in the south central region and is bordered by the Gulf of Mexico to the southeast, Arkansas to the northeast, Louisiana to the east, New Mexico to the west, Oklahoma to the north and Tamaulipas, Chihuahua, Nuevo León and Coahuila in Mexico to the southwest. The most populous city in Texas is Houston and the second most populous is San Antonio. Texas is nicknamed "The Lone Star State" to signify its independent republic former status.
Geographically, Texas is comprised of terrain that ranges from rugged hills, rolling plains, piney woods and coastal swamps, as well as the desert and mountains of the Big Bend. The state has a growing base of industry including petrochemicals, biomedical sciences, computers, agriculture, aerospace, electronics and energy.
How can you become a BSN-prepared nurse in Texas? The admission requirements for an online RN to BSN degree program in Texas are as follows:
Unencumbered RN license

Official transcripts from all previously attended colleges and universities

Minimum 2.75 Cumulative GPA

Associate degree in Nursing or Diploma in Nursing
 
For full admission details, visit this page and fill out the form.
 
Benefits of Advanced Nursing Degrees
Earning an RN to BSN degree can prepare you for greater career mobility in Texas. According to NursingLicensure.org, Texas has 26 facilities with Magnet designation, some of which advertise clinical positions as BSN-preferred. The Magnet hospitals in Texas have quotas for nurse manager positions and some also hire BSN nurses for several other RN positions.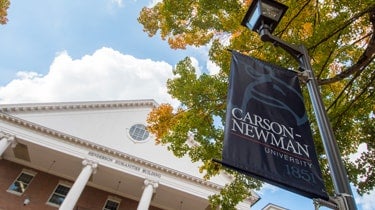 About Carson-Newman's Online RN to BSN Program
Licensed RNs can receive up to 90 hours of credit, based on transfer evaluation

You'll be joining an interactive virtual learning community and will benefit from a dedicated Student Success Advisor throughout the entire program

Our RN to BSN online program is the exact same program as our on-campus program (no differentiation is made on your diploma)

The program can be completed in as few as 14 months based on transfer evaluation
What Are RN to BSN Requirements?
While the Texas Board of Nursing licenses RNs and LPNs and sets educational and practice regulations, actual RN to BSN requirements are set by each university. As mentioned above, an unencumbered RN license, official transcripts from all post-secondary educational institutions, an ADN or Nursing Diploma, and a minimum 2.75 cumulative GPA are required to be admitted to Carson-Newman's online RN to BSN program. The American Nurses Association encourages nurses to have completed their BSN within ten years of earning their RN licensure.

How Long Does It Take to Become a Family Nurse Practitioner After a BSN?
For Texas RNs seeking information about how to become a nurse practitioner after completing  their BSN, Carson-Newman's online Master of Science in Nursing - Family Nurse Practitioner (MSN-FNP) program prepares Registered Nurses who possess a Bachelor's degree and an active and unencumbered RN license for advanced practice opportunities such as a Family Nurse Practitioner. It can take as few as 32 months to obtain an online Master of Science in Nursing - Family Nurse Practitioner degree after earning a BSN.
 
Carson-Newman's (C-N) online RN to BSN program allows working nursing professionals in Texas to balance a busy professional life with higher education goals. With a distinct curriculum delivered through an engaging and supportive learning environment, the C-N online learning environment promotes a sense of connection and community while you interact with faculty, support staff and classmates. While earning your degree, you will expand your lifelong career network.
While learning how to become a BSN-prepared nurse at Carson-Newman, you'll be taught to make informed patient care decisions using evidence-based practice. Conducting accurate assessments with the best evidence available and providing effective care are tenets of the Carson-Newman RN to BSN program. C-N takes a holistic approach in caring for patients, and RN-BSN graduates seek and obtain resources that positively affect the lives of patients.
 
What Does the Job Market Look Like?
The salary for a BSN-prepared nurse can range between $60,000-$100,000 according to U.S. News, depending on the location, facility, as well as the individual's work experience. The standard average salary for Texas nurses with a Bachelor's degree is approximately $67,447 per year, according to Salary Expert.
When you delve deep into employment opportunities in Texas for nurses with an RN to BSN, you'll see the following or similar jobs:
RN - ICU

Clinical Team Manager - Acute Care - LTC

Nurse Manager - Recovery/Day Surgery

Oncology Registered Nurse

Charge Nurse - ER

RN - Robotics Facilitator

MedSurg Educator

Manager Advance Clinical Applications

RN Clinical Supervisor (Home Health)

Forensic Nurse Examiner
 
Sources
https://money.usnews.com/careers/job-search?location=usa&search=nurse%20bsn
https://www.hrsa.gov/advisorycommittees/bhpradvisory/nacnep/Reports/sixthreport.pdf
https://www.salaryexpert.com/salary/job/rn-bsn/united-states/texas