In every state but New York, a Bachelor of Science in Nursing degree is not required to practice as a nurse by law. Students who pass the board exam after completing registered nursing education become RNs, which licenses you for nursing practice. Therefore, you may be wondering: is it worth getting a BSN in nursing? 
There are many reasons to pursue an accredited RN to BSN program, including financial benefits and increased career options. As well, the American Association of Colleges of Nursing (AACN) has stated that the health care profession recognizes the unique value BSN-prepared nurses bring to nursing practice.
Read on to discover why getting a BSN in nursing is worth it.
Advanced Education Linked to Improved Patient Outcomes
The advanced education offered by online RN to BSN programs has been stated by the American Association of Colleges of Nursing (AACN) as preparing nurses to meet the demands placed on them today. The AACN states that: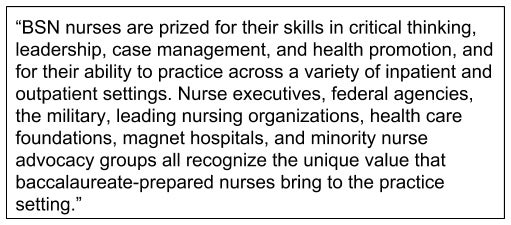 Benefits of an Online RN to BSN Program
There are advantages to obtaining higher education with an accredited RN to BSN online degree program that make it worth serious consideration. As more states move toward legislating the BSN in 10, completing an RN to BSN online will be well worth the effort, financial investment and time. Magnet recognition attracts top nursing professionals to top hospitals, and the benefits of Magnet hospitals with nurses who have completed online RN-BSN programs extends to everyone involved in health care. Pursuing an RN to BSN online is a convenient way to upgrade to the BSN-level nursing professional that Magnet hospitals seek in their nursing staff.
An accredited online RN to BSN program can prepare you for many of the changes affecting the nursing profession, including Americans living longer, an increase in the number of insured Americans seeking health care services, and the current shortage of nursing professionals. There is also an increasing need for nurses with specializations such as pediatrics, oncology, and intensive care. An RN to BSN online degree can also empower nurses to pursue advanced education that leads to advanced nursing careers such as nurse practitioners, and those with certifications such as nurse anesthetists, gerontology nurses, cardiac nurses and radiology nurses.
The Institute of Medicine (IOM) Future of Nursing Initiative recommends that 80% of nurses have bachelor's degrees by 2020. An online RN to BSN program can help bring that reality to fruition while allowing nurses to fulfill regular career and family responsibilities.
RN to BSN Online Opens Doors to Alternative Nursing Careers
A variety of alternative nursing careers are available to nurses who complete an online RN to BSN program such as occupational nurse, informatics nurse, travel nurse, academic nurse writer or forensic nurse consultant. A RN to BSN online can lead to salary growth and other advantages offered by non-traditional nursing careers, including increased autonomy.
Highest Paying Nursing Jobs Can Result From an Online RN to BSN
Monster.com indicates that alternative nursing careers can pay from $50,000 to $84,000, Other high-paying nursing jobs start with a BSN, including a career as a certified nurse midwife, pain management nurse or a psychiatric nurse practitioner.
If you are a licensed RN without a BSN degree, it may be time to consider taking the next step. Carson-Newman's 100% online RN to Bachelor of Science in Nursing program grants licensed RNs up to 90 hours of transfer credits (based on evaluation), and coursework is 100% online (not including clinicals), which enables you to complete studies without interrupting your schedule.
Contact us to find out more about Carson-Newman's online RN to BSN program.
Sources:
https://www.nursinglicensure.org/articles/rn-licensing.html
http://www.aacnnursing.org/News-Information/Fact-Sheets/Impact-of-Education
https://www.monster.com/career-advice/article/Alternative-Jobs-for-Registered-Nurses